Dr. Kristie Fresco-Hawes
2020-21 Teacher of the Year
What matters more than the promise of each individual child? While our best students make our jobs easier, it is our most challenging and troubled students who make our jobs vitally important. As chosen educators, we are privileged to be entrusted with their futures. Being entrusted is not enough, we must also have the compassion and skills to truly make a difference and lead them through adversity and trauma. Kristie Fresco-Hawes valiantly leads these efforts in our district STARS programs.
Confucius affirmed, "Education breeds confidence. Confidence breeds hope. Hope breeds peace." When every child confidently feels a strong sense of purpose and belonging, then we shall have peace in our hearts, in our classrooms, on our playgrounds, in our neighborhoods and cities, in our world. What's more worth fighting for than the promise of each individual child? Kristie relentlessly advocates for East Hampton's most vulnerable students and their families and she has been an invaluable resource to every staff member. She effectively communicates with students, families, colleagues, and community members. Battles are seldom won alone. As dedicated collaborative teams and with Kristie's leadership, we have the inspiration, talents, resources, and programs to successfully educate every child.
Kristie emphatically and compassionately cares. She listens. She mentors. She coaches. She communicates. She co-teaches. She provides. She inspires hope. She pushes up her sleeves and never hesitates to date greatly in the arena of challenge and vulnerability. She wins battles. And for this, Kristie Fresco-Hawes represents East Hampton with distinction as the 2020-21 Teacher of the Year.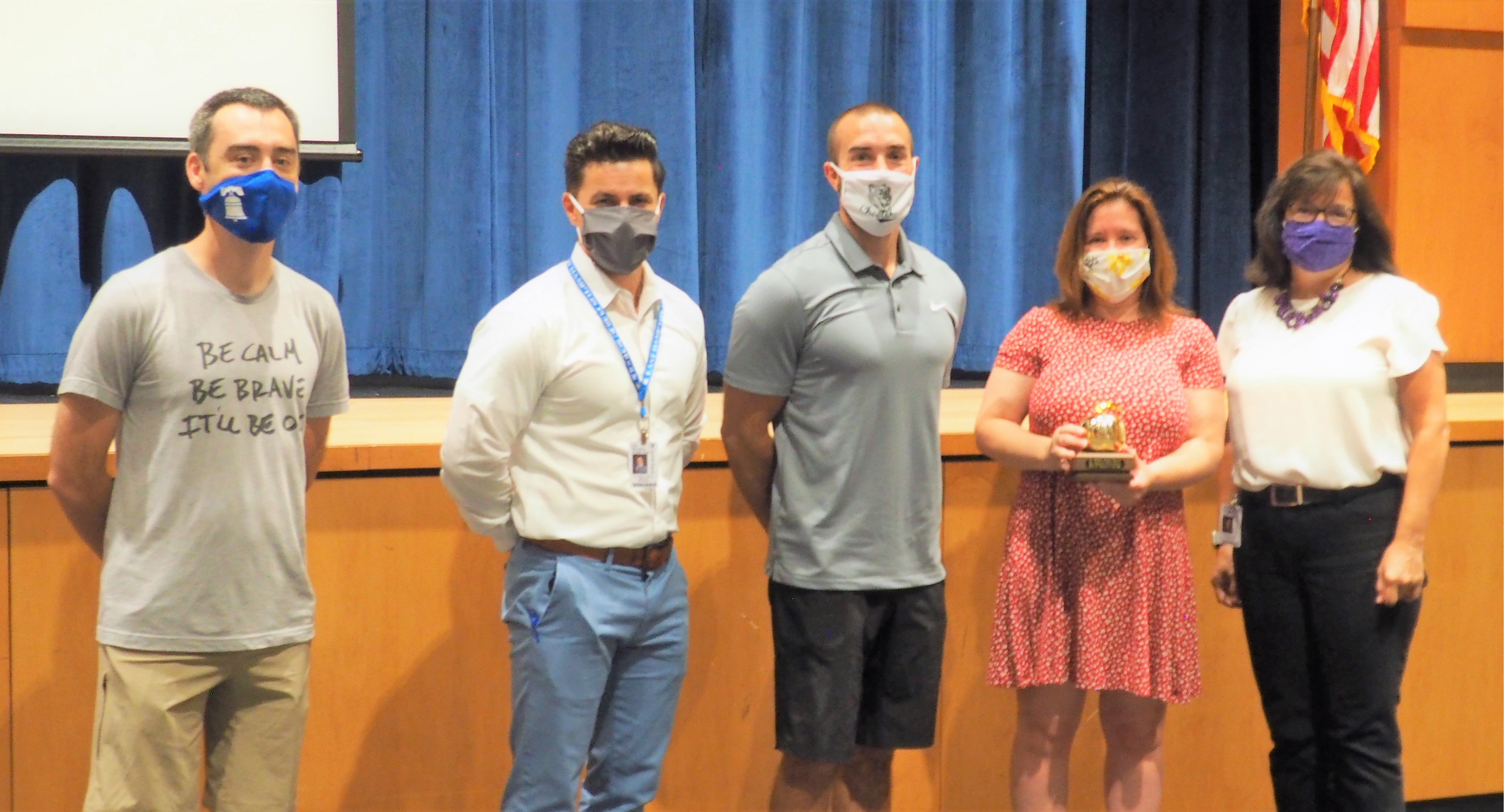 Pictured at the 2020-21 Convocation (left to right) with Dr. Fresco-Hawes are 2019-20 Teacher of the Year, Ehren Brown, Center School Principal Chris Sullivan, Memorial School Principal Andy Gonzalez, and Assistant Principal Brandy Gadoury