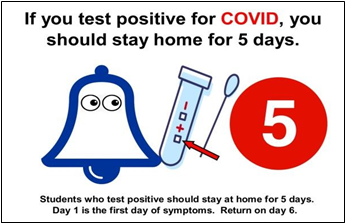 Students who test positive should isolate for five days.
CDC and DPH guidelines no longer mandate a five-day isolation as in the past. Obviously, if a child has COVID, we do not want them in the classroom even if asymptomatic; however, the five days of isolation is only a recommendation.
The CDC and DPH also recommend that anyone who returns after a COVID positive test result should wear a mask for five additional days. However, once again the CDC and DPH guidelines do not mandate a five- day mask period. Obviously, if someone has COVID or has had COVID, we would want them in a mask upon return, however, the five days of mask wearing is only a recommendation.
Please note however, that any child or staff member who is sickly is not to attend school. As always, children who do not feel well should stay home. Nothing has changed in our expectation that students who are sick remain at home until feeling better.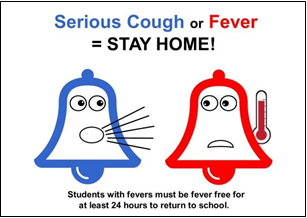 Those children with severe coughs and/or a fever will be sent home from school. Any child waking up with a severe cough and/or fever should be kept home. As always, a student must by fever free for 24 hours prior to returning to school.
We are working to maintain our schools' healthy learning environment and we are counting on our parents to keep all illnesses including COVID, flu, and the stomach bug out of our classrooms.
Please note that recent attendance guidelines forwarded to families indicate that first 9 days of absences are covered by a note or email to the school.
Total Number of Days Absent

Acceptable Reasons for a Student Absence to be Considered Excused

Documentation Required within
10 Days

1-9

Any reason that the student's parents or guardians approves

Parent or guardian note or email to the appropriate school email address.

10 and above

Student Illness

Religious Holiday

Funeral

Mandated court appearance

Extraordinary Educational opportunity pre-approved by the Superintendent of Schools. Contact your building principal for further information.

Parent or guardian note or email to the appropriate school email address and additional documentation as required and outlined in the East Hampton Board of Education's Attendance Policy.
This year, there is no reduction in absence totals for individual students due to COVID. Students who are isolating for 5 days will be 5 days absent, which will count as part of the first 9 days that do not require documentation if they occur in t early part of the year.
The State is encouraging schools to increase attendance rates this year. We are hoping to have all of our students remain healthy and in school; however, this requires a commitment on the part of our staff and parents to make sure that safe health habits are practiced throughout the year.