Erica Artikes
Rookie Teacher of the Year
Erica's impact on the students she teaches is quite apparent before you even enter her classroom. She strongly believes that building strong, personal relationships is key to creating a positive classroom community.
Erica possesses a seamless skill in incorporating this information into her lesson planning which encourages and motivates even her most reluctant learners. She works tirelessly to create an environment in her classroom where children thrive by feeling confident to take risks, make choices, share opinions, and most of all grow to be kind and caring individuals. Her frequent, ongoing communication with parents reflects her belief that a home-school connection is vital to help her students flourish in the classroom.
In addition to her positive impact on her students, Erica has distinguished herself as a leader at Center School. Despite her "rookie" status, Erica is quite knowledgeable with both the workshop model for teaching Math as well as the NGSS Science practices. She is adept at incorporating hands on manipulatives into her lessons, leading her students through inquiry based investigations, and differentiating instruction to meet the needs of all learners. Her creativity in developing centers to reinforce and enrich concepts that have been taught as well as her "spot on" classroom management keep students productively engaged and motivated.
In addition to her classroom responsibilities, this year Erica was an advisor to The Center School Press, our school newspaper. Through her vision, this year students received actual press badges and became reporters at school wide events. Her contributions to our school PBIS committee resulted in new ideas to reward students for their ROAR behaviors. She celebrated the diversity of students, honored our veterans, and spread kindness like a ripple through student artwork displayed throughout the year in our hallways.
For her dedication and commitment to her students, as well as the staff at Center School, Erica Artikes has distinguished herself as an excellent role model for the East Hampton Public School System. Congratulations to Erica for being named the 2020 Rookie Teacher of the Year.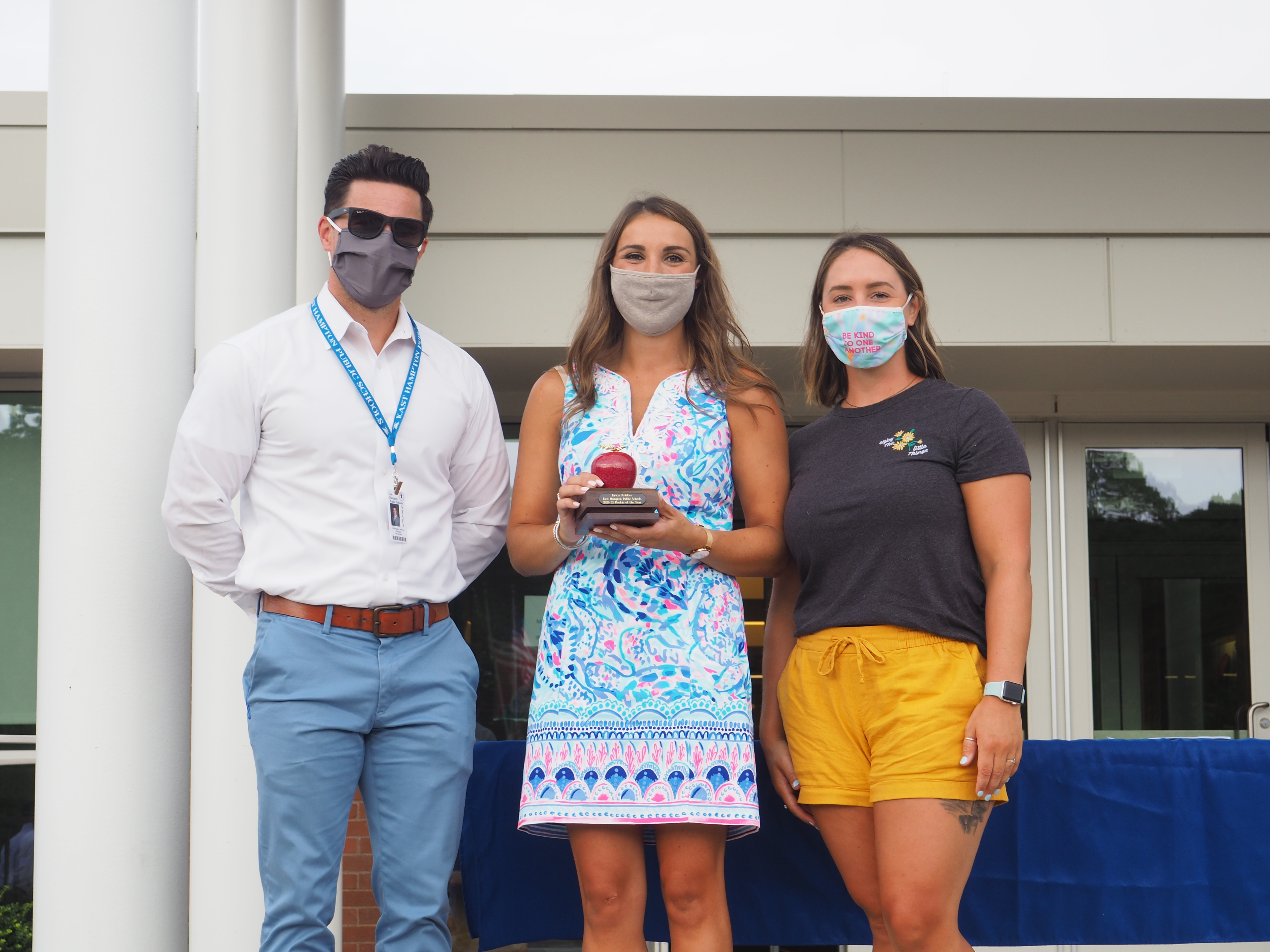 Erica Artikes pictured with Center School Principal Chris Sullivan and prior year Rookie of the Year Katherine Robinson at the 2020 Convocation