GOOD APPLE NOMINATIONS
Good Apple Award Nomination Form
Return the completed form to the School Principal by TBD
The most valuable assets of the East Hampton Public Schools are our more than 300 employees — our teachers, office staff, IT staff, paraeducators, interventionists, custodians, food service workers, bus drivers, nurses, substitutes, administrators, and all others who contribute daily to the education of East Hampton children. Each has an integral role to play in the overall successful operation of the school system.
To recognize the outstanding contributions of the many people who are helping to ensure that East Hampton Public Schools are "opening doors to inspire every student to dream, discover, and achieve," the GOOD APPLE AWARD continues as a proud tradition of our district. All employees of the East Hampton Public Schools are eligible to receive a Good Apple Award. Please note — past recipients of the Good Apple Award may be considered.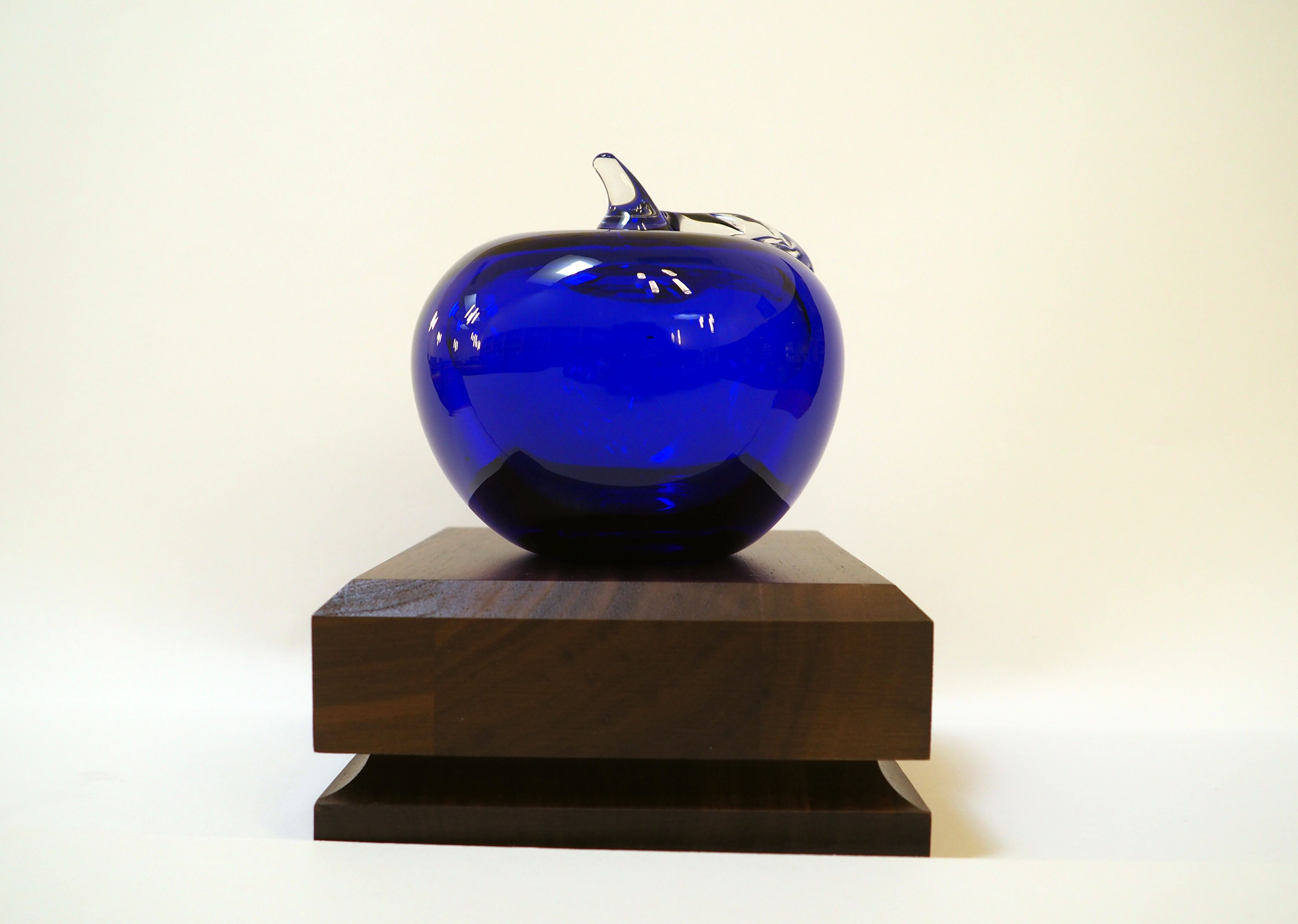 We honored our East Hampton Good Apples at Convocation on Tuesday, August 23rd, 2022.
Good Apples are those staff members who make the
East Hampton Public Schools an outstanding school district as a result of their dedication and effort.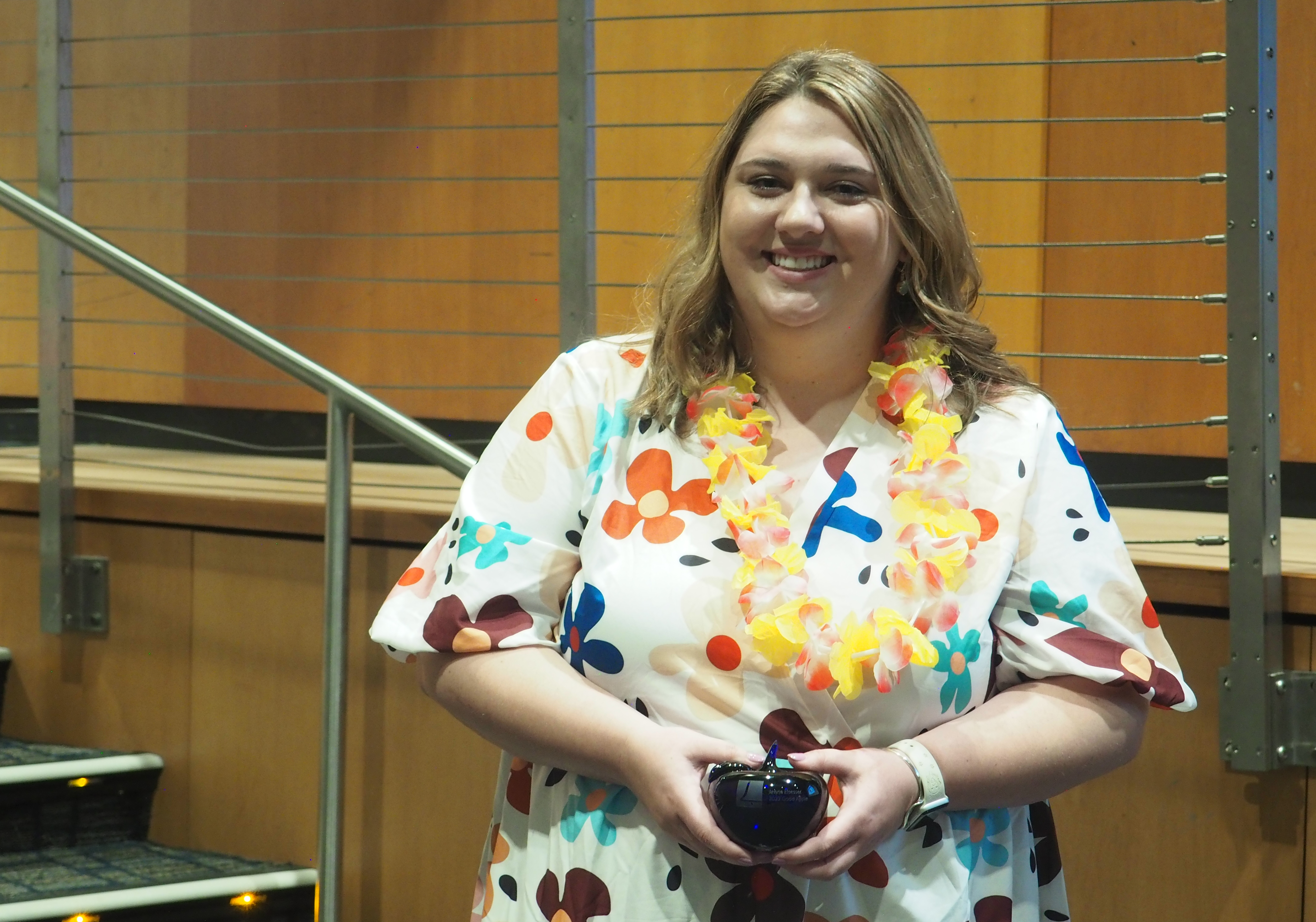 Jenna Elsesser
This good apple always strives to build strong relationships with the students and families in her classroom community. Her positive, calm disposition allows her to successfully accommodate a variety of personalities and behaviors. She is a strong advocate for her students, and is always willing to implement any strategies that might benefit her young learners. She plans instruction thoroughly, and collaboratively. She is a team member who has a quiet voice, but a strong impact. She listens to her colleagues, shares her own ideas, and is then able to help facilitate a consensus or compromise.
In addition to her strength as a classroom teacher, her support stretches beyond the walls of her classroom. She is always looking for ways to support the entire Memorial School community. This past year, she took a leadership role on the grade 1 team. She created a weekly lesson planning template that the team now uses to collaboratively plan. She encouraged the team to plan together on a weekly basis so they could work smarter and share ideas with one another. She is also a member of the PBIS team at Memorial School. There, she has volunteered to use her talents with graphic design to create the PBIS flyers for all of Memorial School's many events and celebrations. In the classroom, on her grade level team, and across the entire Memorial School community, she is a Good Apple!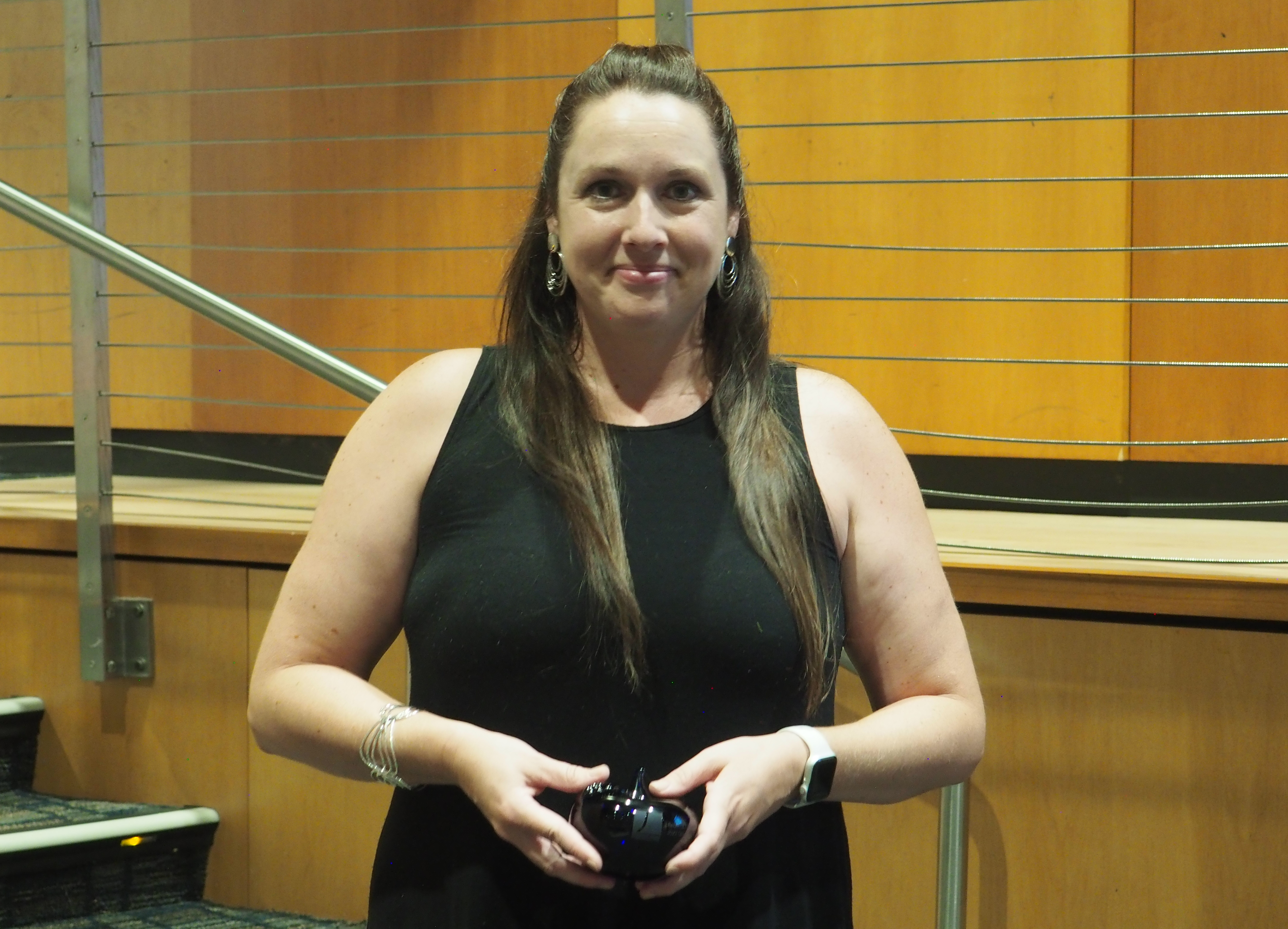 Rebecca Flannery
She is a Good Apple to our entire K-5 community. Despite having to split her time between two buildings, her presence is always felt at Memorial School, and her contributions to our school community are difficult to tally. In her quiet, unassuming way, she works tirelessly to bring our students, staff and families together for the common good.
Whether she is researching and organizing text sets for classroom teachers, facilitating book fairs, collaborating with her related arts team, organizing school-wide events like Treats for Troops, partnering with the literacy team to promote Read Across America week, swapping her class schedules to accommodate building needs, or supporting bus dismissal every day, her priority is to always do what's best for students. She approaches every task with an efficient, determined mindset, and doesn't walk away from a job until it's done. Most recently, she committed to initiating a school-wide service project committee for the 2022-23 school year. Memorial School is lucky to have such a dedicated educator and community member on our team.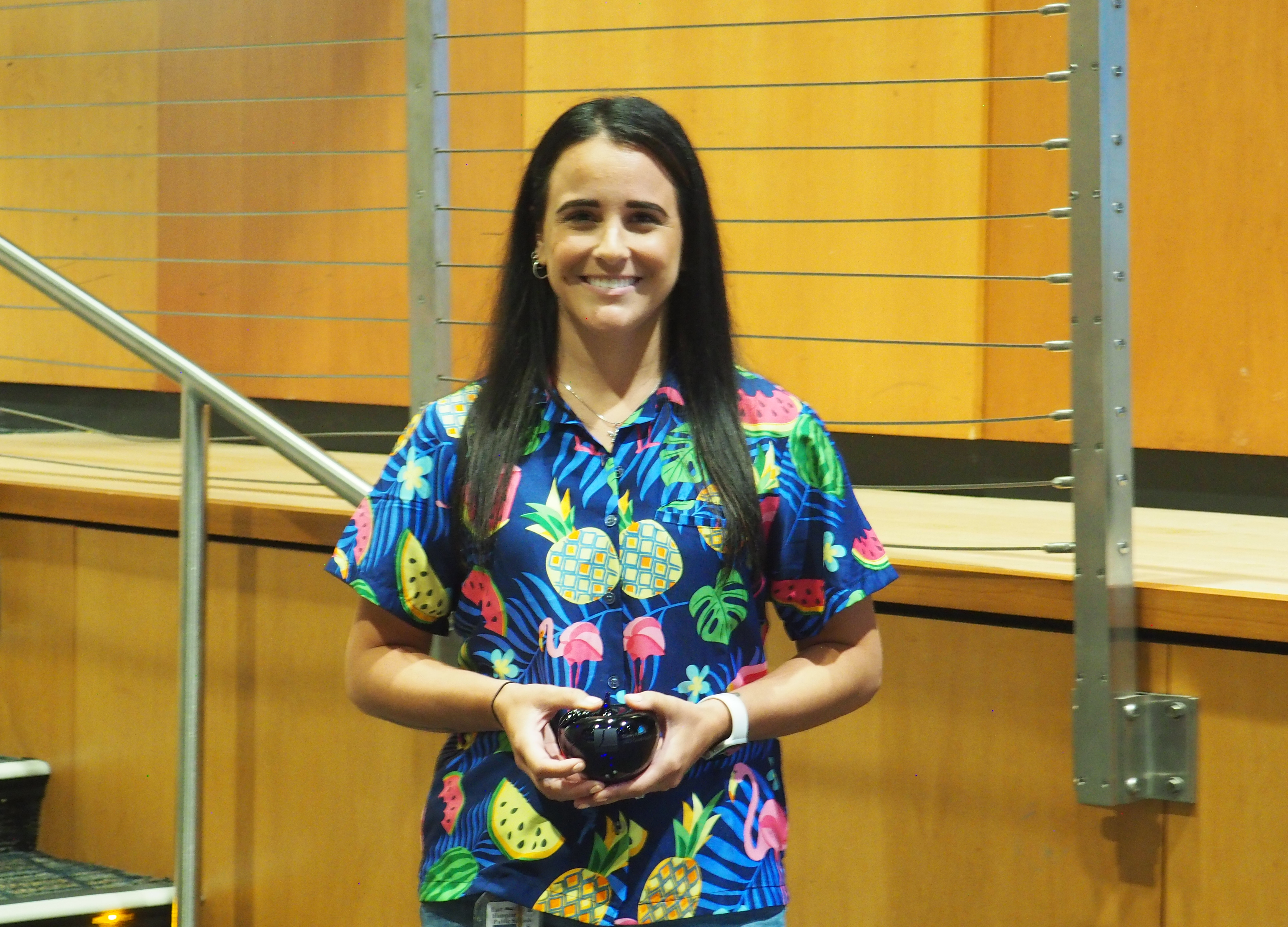 Stacey Rios
Stacey Rios is an amazing school psychologist that goes above and beyond to support both staff and students alike. Stacey has a positive attitude and enthusiasm that is invigorating and contagious to all those who work with her throughout the day. Her sense of humor brightens everyone's day.
Stacey is a strong team member here at Center School that works with classroom teachers to support all learners. She is a collaborative member of the STARS team and is always available to stop what she is doing to support the needs of her students. She approaches each situation with empathy and compassion that her students feel and know is authentic and genuine. Additionally, she has worked hard to gain the trust and support of the families that she works with in order to maintain a highly effective relationship between home and school.
Stacey is even known to stop out to help cover at recess and show off her fancy soccer skills, all while demonstrating good sportsmanship and coping strategies to her students. Stacey works with students on the playground to grow their social skills and build upon their knowledge of Second Step skills. She exemplifies all those qualities that we strive to instill in our students: kindness, humor, teamwork and dedication. We are so lucky to have Stacey Rios on our team with us here at Center School. Stacey Rios, you are a Good Apple.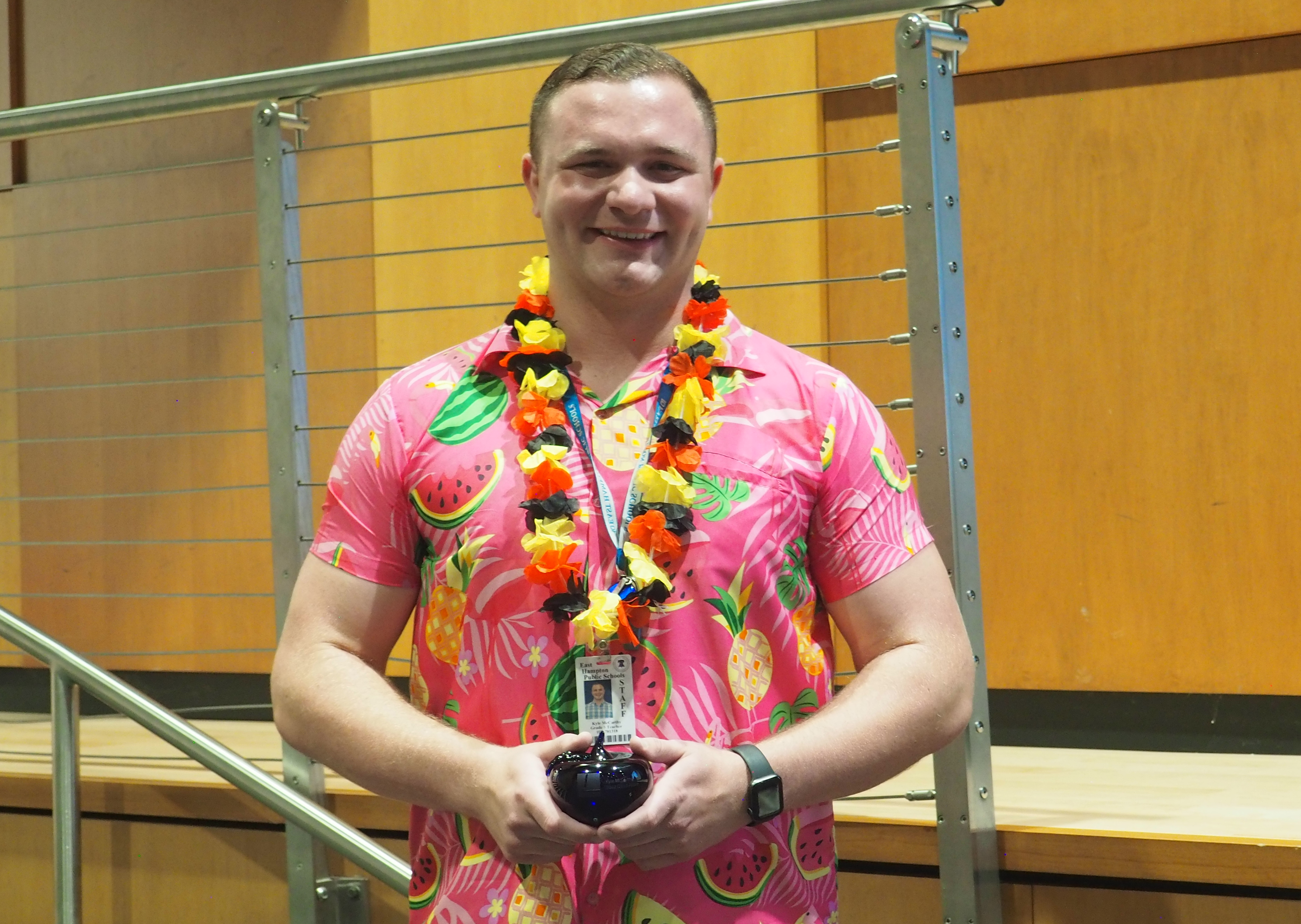 Kyle McCarthy
Kyle's nomination for a Good Apple was sent in by a parent who felt compelled to share the impact Mr. McCarthy had on her son. In the nomination, the parent writes, We have been blessed thus far in East Hampton's School system, and Mr. McCarthy is absolutely no exception to this. Mr. McCarthy has show a genuine interest in my son outside of the classroom, and he has even become a fan of my son's favorite sport, hockey. This does not seem very important, but to my son, it is everything. It made him feel like a teacher was truly interested in him and wanted to relate.
Kyle's passion for teaching and his drive to reach and relate to our future leaders is truly that of someone who is not only doing their job but also collaborating with these kids to shape their futures! I truly appreciate Mr. McCarthy and should be so lucky to have inspirational leaders like him instructing both of my children in the future.
At Center School, we agree with this parent's observation on the immediate impact this staff member had on the students, staff, and culture of Center School. Mr. McCarthy is a beginning educator with a passion for his students, a commitment to the community, and the understanding that we always need to set aside time for milk and cookies. Mr. McCarthy, you are a Good Apple.
EAST HAMPTON MIDDLE SCHOOL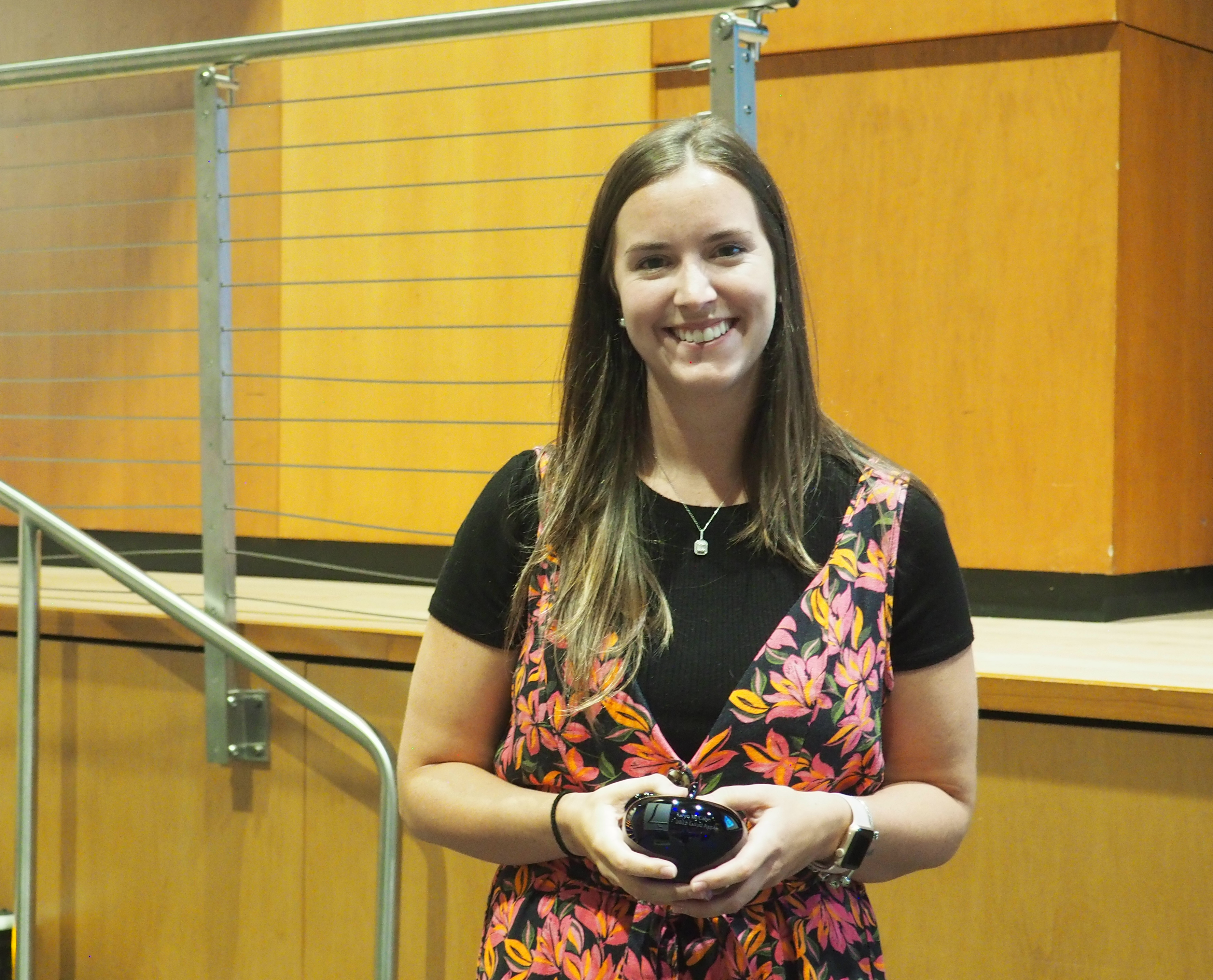 Taryn McCabe
Taryn is new to East Hampton Middle School but has made a tremendous impact on students, families and her colleagues in just this past year. Admired and nominated by students as well, a student says, "I'm nominating Ms McCabe because she is an amazing social studies teacher who is strict but kind and teaches us in a way that will help us do well in school and eventually in college. She is Funny/ great sense of humor and always helps her students when they need help. She has always helped me when I needed help on my assignments".
Taryn is a dedicated professional. She is passionate about her curriculum and eager for students to grow in both their content knowledge as well as in their interest-level. You can see this in her thoughtfully planned lessons that highlight the history standards in engaging and creative ways. Her purposeful inclusion of current trends, topics, technology and culture has encouraged greater student engagement and meaningful connection. When students were asked to share something from her class, they listed escape rooms, making aqueducts, creating British monarchy slides, reproducing artifacts, competitions and so much more. Another student said, "She always gives us projects but they're actually fun like when we made domes out of popsicle sticks and other supplies. We had to make it strong enough so it would survive water as a flood."
A colleague shares, "She is excellent with all of my special education students. She forms a positive rapport with them and holds them to high behavioral expectations while respecting and acknowledging their unique needs and differences. She makes excellent modifications for each student and always follows their accommodations. She is there for all of my students and is great at communicating with me. She willingly helps them in flex or any time she is available when my students are struggling on an assignment and works closely with their parents/guardians when needed." Taryn McCabe has excelled in just her first year at EHMS and very deserving of this Good Apple!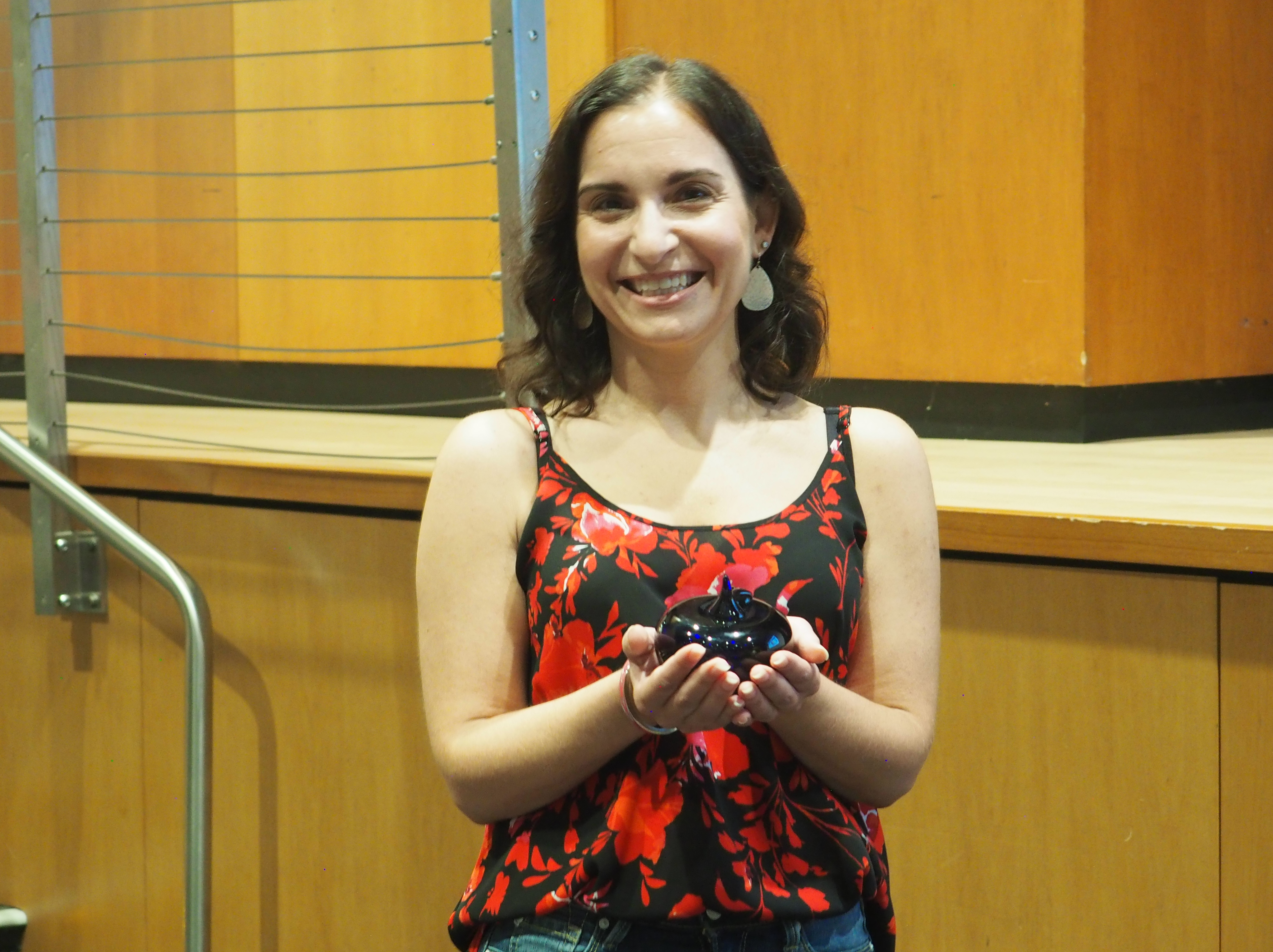 Stacey Vasquez
Stacey Vasquez has done a remarkable job in helping us navigate the consistent needs of students and supporting their social-emotional well being. SEL equips an individual with the ability to deal with difficulties that may arise throughout their life and ability to build relationships and navigate the community they live in; a concept that has been utilized in schools for many more years than the pandemic has impacted us. However, amid the pandemic, students lost socialization from their participation in school, summer programing, and extracurricular activities.
School psychologists have been an essential asset in helping students and addressing specific needs. Whenever there is a student in need or crisis, Stacey immediately adjusts her schedule to help support and listen to the students needs and concerns. She intimately works with families and builds those connections while being the support system for them. She is a consistent collaborator and resource for teams and administration. Stacey is more than deserving of this Good Apple!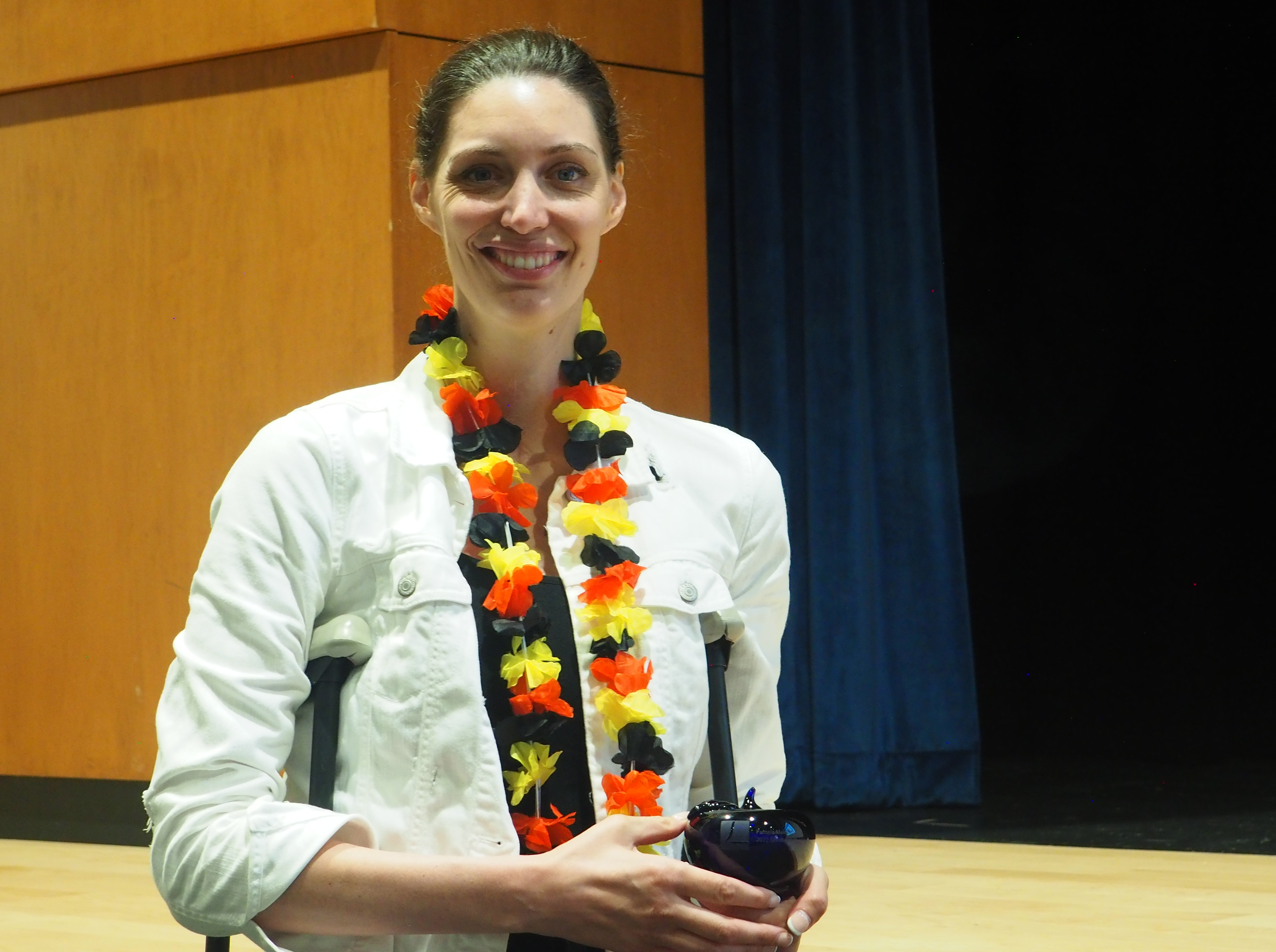 Pam Malcolm
Pam is the rock of the School Counseling Team. Due to turnover, illness and maternity leaves, this past year there were many days where Pam was the only member of the team in the office. Despite that, Pam came to work every day with a smile and simply dug in and got the job done. There were times, when she answered the phone, ran 504 meetings, dealt with student issues and solved scheduling problems. When it came to scheduling, Pam quite literally scheduled all 530 students at EHHS. Simply put, we would not have survived the school year without Pam.
Pam Malcolm is truly a Good Apple.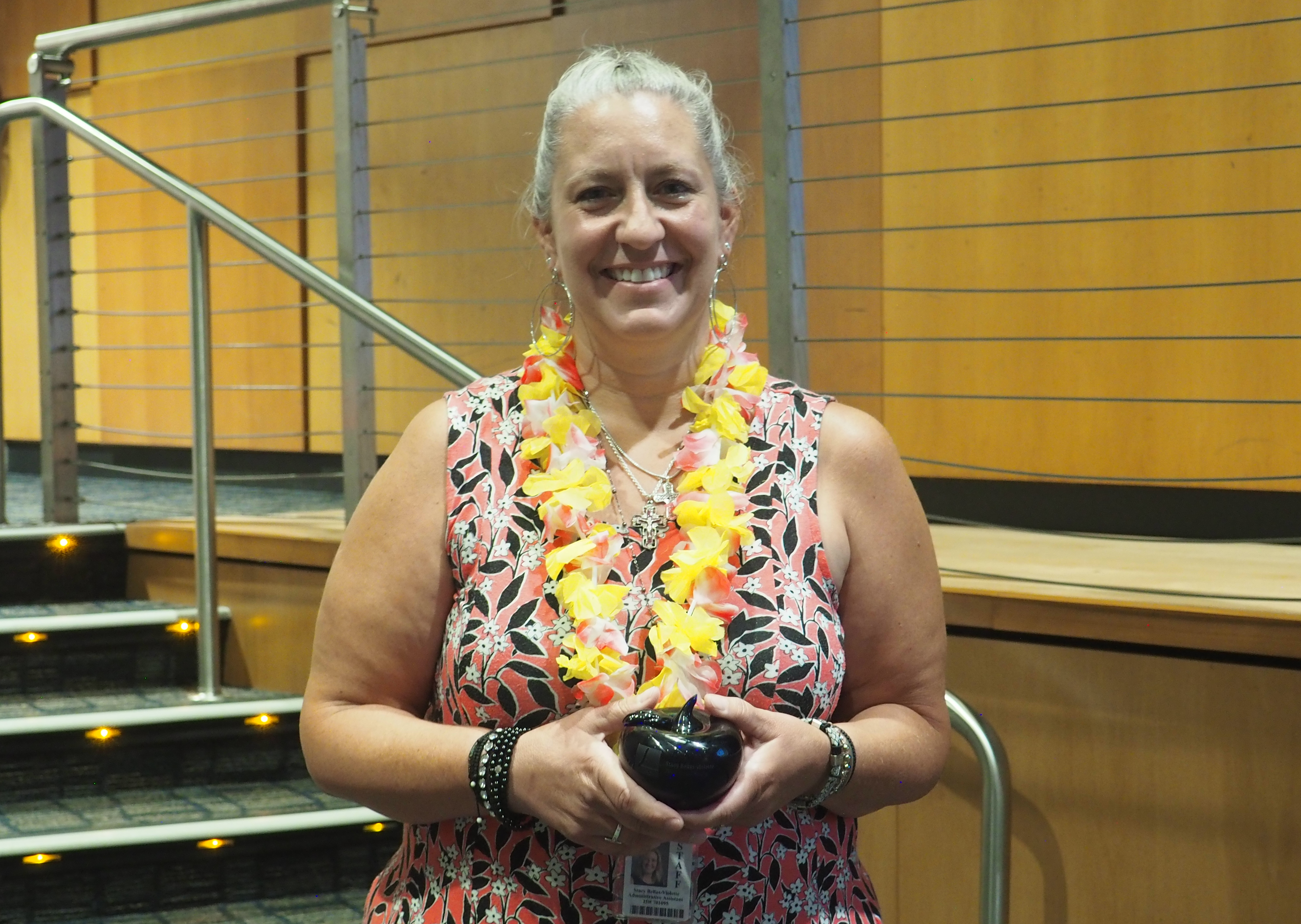 Stacy Bellas-Violette
Stacy is an indispensable component of the support services team. She is a tireless worker whose attention to detail is unparalleled. Stacy is kind and compassionate and gets to know all the students and staff that she encounters. She brings out the best in people . Stacy has the ability to anticipate the needs of the support services team and consistently goes above and beyond to ensure the department is prepared for all situations. Stacy makes everyone that she encounters feel welcomed and appreciated. Simply put, the support services team could not function as smoothly as it does without her.
Stacy Bellas-Violetts is truly a Good Apple.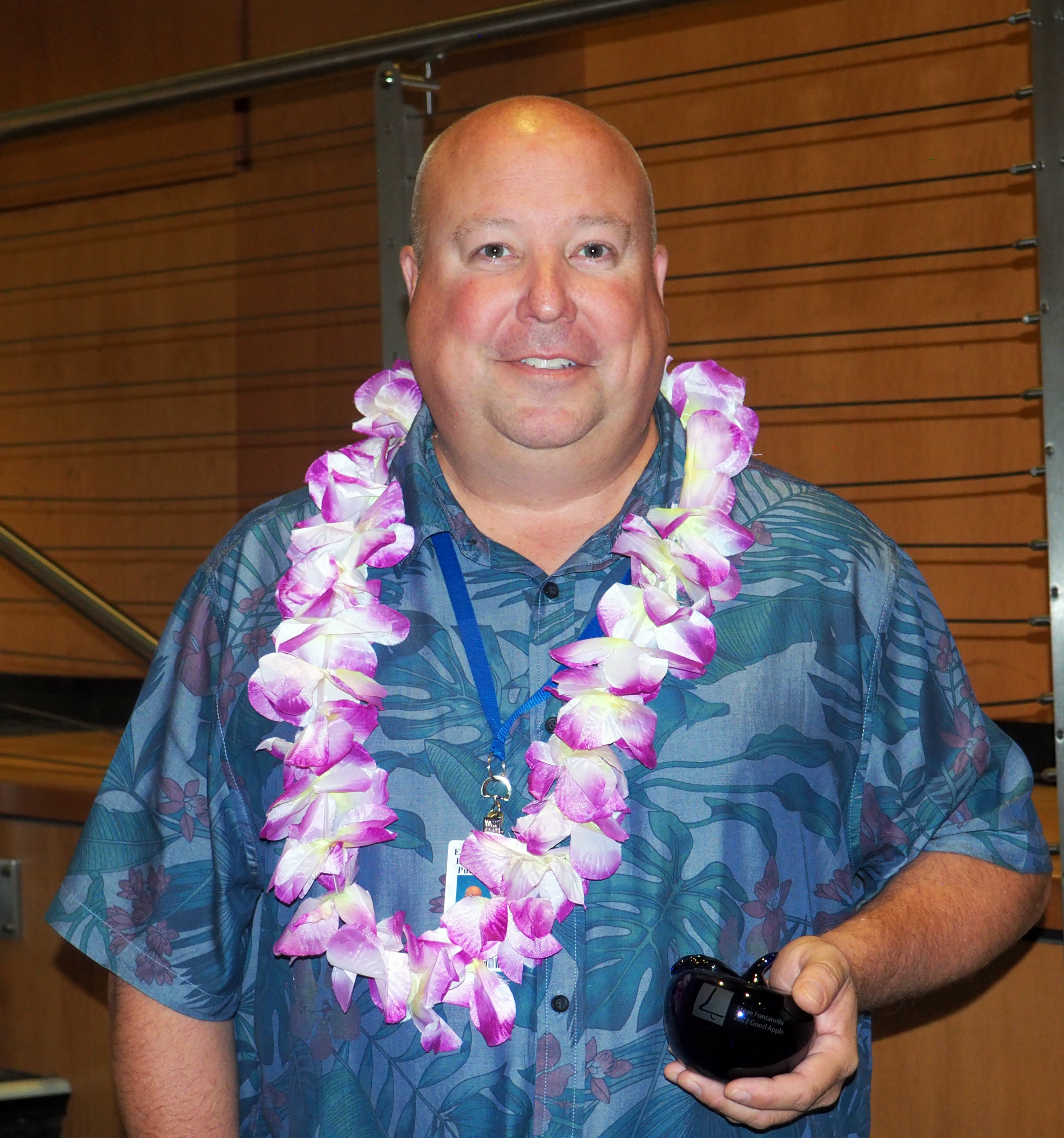 Steve Fontanella
Steve Fontanella, Director of Facilities & Operations arrived a year ago in the middle of COVID and immediately put us all at ease with his "can do" attitude and his "will do anything to please" philosophy. A strong presence in each building along with a true care for each building has administrators and teachers smiling – almost as big a smile as the one Steve greets everyone with each day.
With an expertise in facilities, Steve has overseen the fields project at the High School, water issues throughout our buildings, HVAC replacements, and major & minor repairs requested needed by teachers and administrators. No request is ever met with anything but speed and efficiency. This summer with an ambitious plan to modify learning spaces in the Middle School and replace the floor and lighting on the second floor of Center, he was handed the surprise need to replace the gym floor at the Center School. What could have been a disaster for the school year has turned into a brand new floor after much haggling over price and a convincing "push us up the line" to get it done.
Steve just gets it done. He's reliable – and he truly cares about our schools and our working conditions. And, as well, he oversees all of the town buildings as well. Steve isn't' just a good apple, he is the great apple!