GOOD APPLE NOMINATION FORM - 2020
2020 Good Apple Award Nomination Form
The most valuable assets of the East Hampton Public Schools are our more than 300 employees — our teachers, office staff, IT staff, paraeducators, interventionists, custodians, food service workers, bus drivers, nurses, substitutes, administrators, and all others who contribute daily to the education of East Hampton children. Each has an integral role to play in the overall successful operation of the school system.
To recognize the outstanding contributions of the many people who are helping to ensure that East Hampton Public Schools are "opening doors to inspire every student to dream, discover, and achieve," the GOOD APPLE AWARD continues as a proud tradition of our district. All employees of the East Hampton Public Schools are eligible to receive a Good Apple Award. Please note — past recipients of the Good Apple Award may be considered.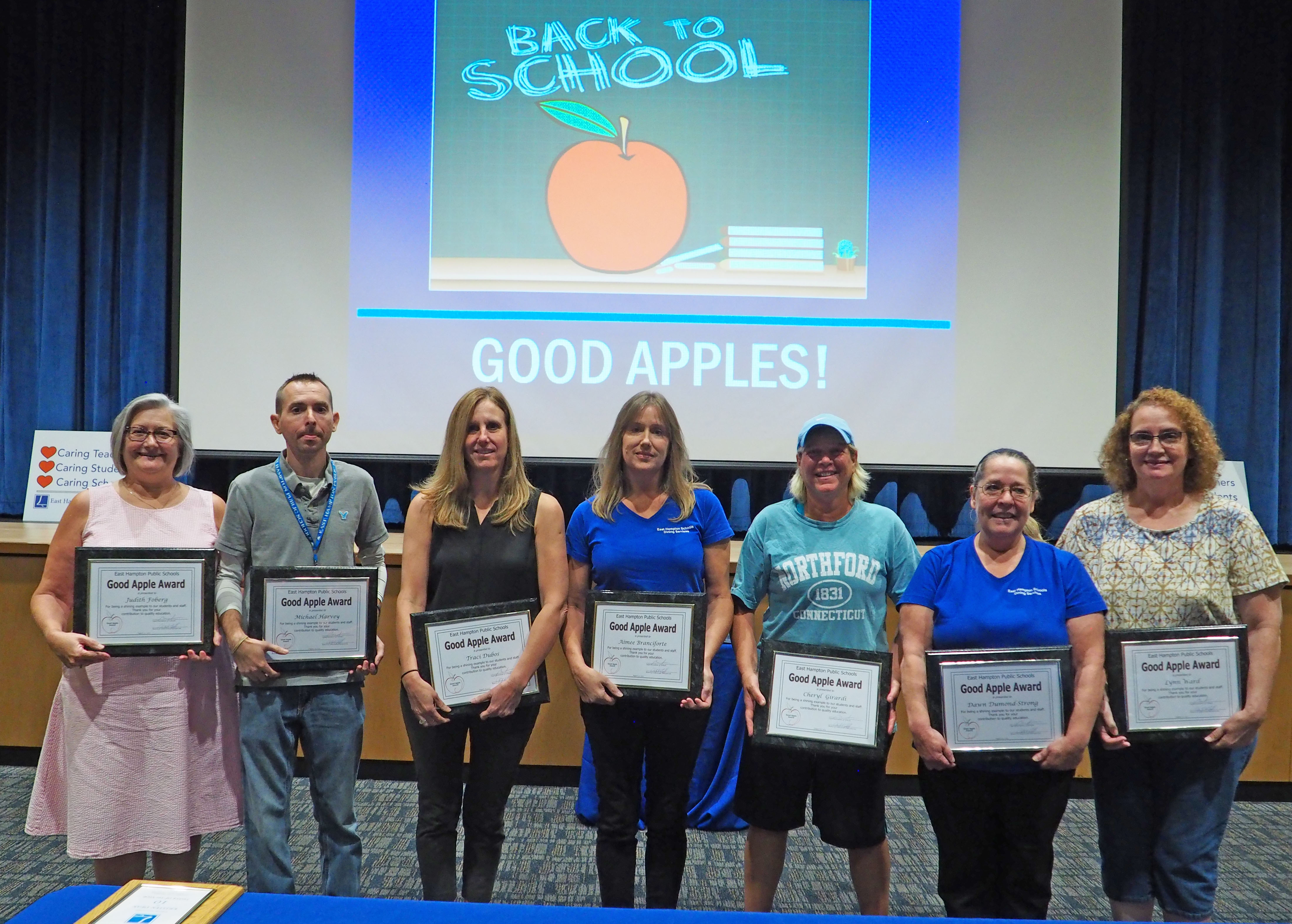 2018-19 Good Apples: Pictured from left to right are Judy Foberg, Michael Harvey, Traci Dubos, Aimee Branciforte, Cheryl Girardi, Dawn Dumond-Strong, Lynn Ward
Cheryl Girardi: EHHS PE Teacher
This nomination came from a student who wrote… "Not only is she an amazing teacher, she is also an adult that all students look up to. The moment we step into her Fitness for Life class early in the morning, she wakes us up with encouraging chants and shouts, energizing us and motivating us to do our best. When we get tired of doing our workouts, she pushes us hard so that we realize our true potentials and what we are capable of. Every morning in the halls, she greets us with a smile and checks up on us, making sure we are doing alright. She encourages us all to fight and work hard for what we want in life."
She helped me completely flip my life around. I entered her class as a junior, and I was in my worst state. I was overweight and had given up on my life at that point. She took me in, pushed me until I didn't think I could continue and would constantly check up on me, asking how I was doing and making sure I was staying strong with my fitness journey. With her help, I was able to lose 46 lbs and I owe her my life. She cares so much about the health and well-being of all her students and always wants to succeed in life. I can't think of anyone more compassionate, caring, motivating and deserving of this award."
Coach Cheryl Girardi you are a Good Apple!
Dawn Dumond-Strong: EHHS Café Manager
This good apple greets every person who walks into her cafeteria with a smile and some friendly conversation. She prepares beautiful, creative meals that are packed with nutrition and taste as good as they looks. She minimizes waste by turning excess food into taste tests for the students, and on any given day, you may be offered a sample of a beet smoothie, a roasted radish, or mango salsa. This year she took the time to work with students in the Culinary Arts II class to create and sell their own smoothie creations, providing them with essential culinary skills and concepts while fostering their imaginativeness and entrepreneurship.
When the State Department of Education announced that her kitchen was going to be subject to a routine audit this year, she worked with her staff for months to ensure that they were meeting every regulation and were 100% prepared. The auditor remarked on her friendliness towards the students and the tremendous amount of pride she has in both her staff and kitchen. She was so impressed with this Good Apple's creative breakfast display that she invited the USDA to come observe our smoothie breakfast during National Breakfast Week.
As if all this wasn't enough, she also organized the No Child Hungry fundraiser to help pay off the lunch debts of families struggling financially, helping with the process from start to finish.
For these reasons, and more, it is with great pleasure that I say this Good Apple Award recipient is none-other than Dawn Dumond-Strong!
Lynn Ward: Middle School Paraeducator
This good apple was nominated by students who wrote such things as..
"She helps me with reading skills I still need help on and if you make a mistake she won't yell or be mad. She gives me interesting stories to read that are amazing and fun to read. She also gives me time to do other work that I need to do."
"I would make her the Good Apple! She works so hard and she is super nice and when you do something bad she won't yell and get mad. She will settle it in a nice way and is nice and sweet to you."
"Thank you for being my teacher."
Caring, passionate adults in the lives of our students are very important. Our middle school students truly benefit from the work of this Good Apple.
Yes, Lynn Ward you are a Good Apple!
Aimee Branciforte: Middle School Cafeteria Worker
This Good Apple was new to the Middle School this year and she hit the ground running! She has worked diligently to revamp our culinary services and offerings. When you go to the cafeteria she knows the students well, greeting them, and always inquiring about their day or weekend. She has really tried to watch and listen to what the kids are saying about the food and she adjusts to accommodate their wants and needs.
Aside from her pleasant and friendly disposition, she is a tireless worker. When it comes to getting things done she puts her head down and gets the job done. With a smile every day and a positive attitude every day, she is always willing to be supportive and flexible to ensure the students get what they need by feeding their hearts as well as their bellies. Her proactive approach to solving problems and eagerness to collaborate to figure things out is so refreshing.
Every adult in our schools plays an important role in our students' lives.
Aimee Branciforte you are a Good Apple!
Traci Dubos: Center School Administrative Assistant
This Good Apple has done an outstanding job filling a very important role at Center School. Her role requires someone with a variety of skills - and she fills them all. From figuring out the puzzle that is staffing each morning, answering phones, assisting students, greeting parents, assisting with staff requests, she handles these tasks and much more all before 9:00 am. Her interactions are those of a professional that is calm, collected and empathetic. Handling the myriad of challenges each day shows off her creative problem solving and attention to detail. Traci is always looking for ways to improve our current practice. Center School is fortunate to have someone who not only fits, but also adds to our climate and culture.
Students, parents, teachers, and staff members are lucky to have her in the front office!
Yes, Traci Dubos you are a Good Apple!
Deborah Demers: Center School Paraeducator
The person nominating this Good Apple wrote, "She is one of the most kind, empathetic individuals that I have worked with. Working alongside this kind individual inspires me daily. She always has a smile on her face and is always so positive. Her interactions with students come from a place of caring for what is best for each students. She always advocates for what is right and personally takes on the challenge of making a positive impact in their lives. She handles any situation with a caring touch and works to build positive relationships with all of her students. She is well respected by all teachers in the building as she works in classrooms to supports those who need it most."
Our staff obviously delivers more than just academic support to our students. Every child needs a champion like this Good Apple to cheer them on!
Deb Demers, you are a Good Apple!
Michael Harvey: Memorial Interventionist
This Good Apple was new to Memorial last year. In that short time he established himself as an important member of the school community. He has a positive attitude even when facing a challenge. He supports his colleagues where ever he sees an opportunity. He is able to build relationships with all students in the class, including the student he is working with. He fosters and encourages friendships among the students he is working around. His hard work, dedication and consistency to go above-and-beyond makes him deserving of recognition.
It's great to have staff come in and fall right in line with our expectations of Kindness & Caring for every student. This staff member did just that!
Yes, Michael Harvey, you are a Good Apple!
Judith Foberg: Memorial Special Education Teacher
The person who nominated this Good Apple wrote, "On a daily basis she demonstrates what it means to be a great teacher and she inspires me to be the best for my students! She always puts her students' needs first. She is committed to being prepared for every lesson, activity, teacher consult or PPT and will arrive early each day or stay late to ensure all details are complete. She builds strong relationships with her students' parents which makes the students' educational team as strong as possible. Communication with the parents is professional, friendly, and frequent, which aids in supporting the students in a timely manner as well as appropriately. She spends extra time to learn more about a student's disability or new evidence based intervention or teaching method so that her students can benefit from current research.
She truly believes in all of her students and their ability to learn. She collaborates freely and easily with other members of the student teams to deliver the supports and teaching necessary for each student to be successful. I am fortunate to be able to work closely with her in the ABA Program. It is a direct result of her teamwork that we have helped our students achieve their goals and more! And the most important comment I can make is that her students not only trust and respect her but they are always happy to see her. I never get tired of seeing them greet her wearing a big smile!"
Judy Foberg, you are a Good Apple!