GOOD APPLE NOMINATIONS
Good Apple Award Nomination Form
Return the completed form to the School Principal by TBD
The most valuable assets of the East Hampton Public Schools are our more than 300 employees — our teachers, office staff, IT staff, paraeducators, interventionists, custodians, food service workers, bus drivers, nurses, substitutes, administrators, and all others who contribute daily to the education of East Hampton children. Each has an integral role to play in the overall successful operation of the school system.
To recognize the outstanding contributions of the many people who are helping to ensure that East Hampton Public Schools are "opening doors to inspire every student to dream, discover, and achieve," the GOOD APPLE AWARD continues as a proud tradition of our district. All employees of the East Hampton Public Schools are eligible to receive a Good Apple Award. Please note — past recipients of the Good Apple Award may be considered.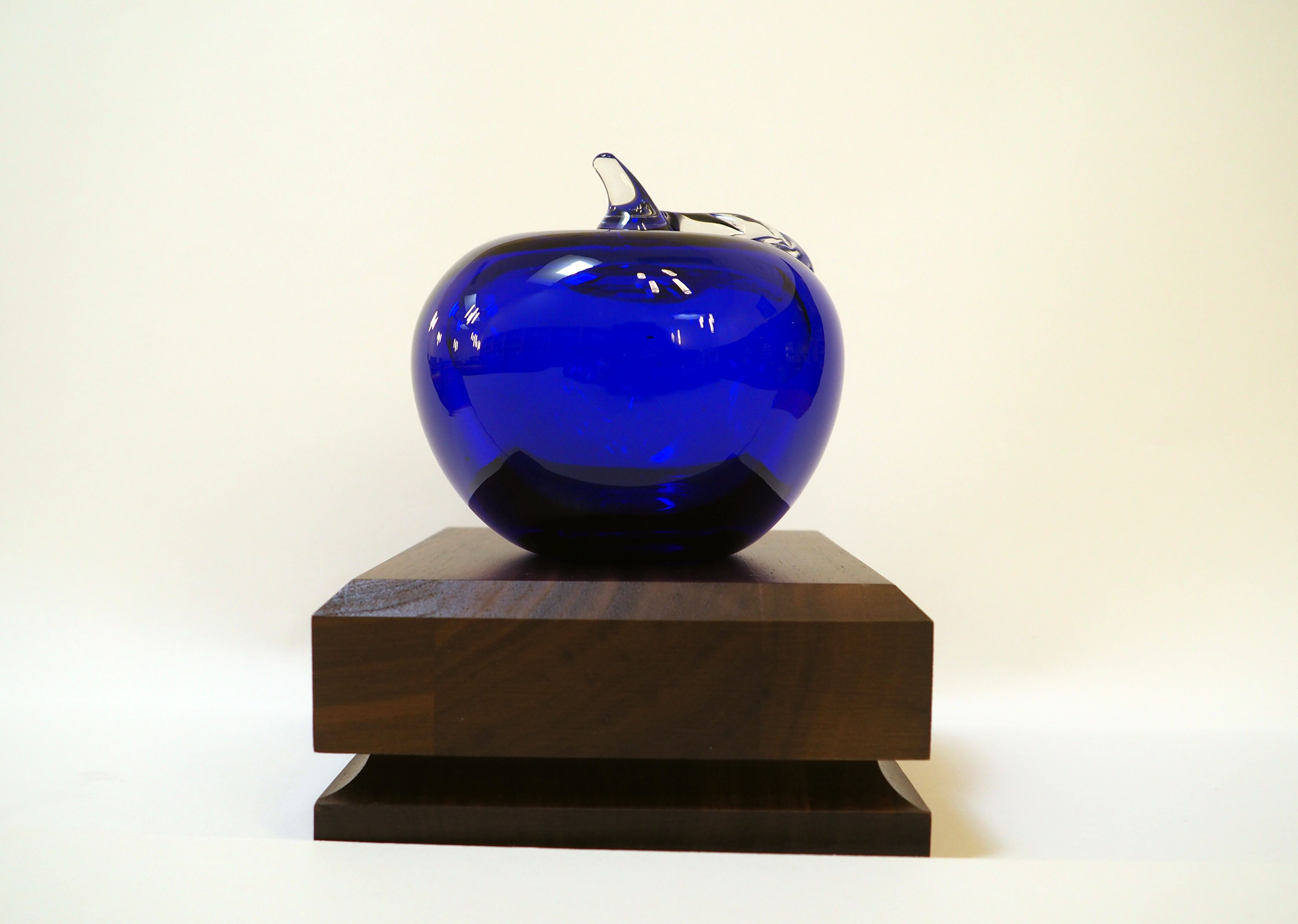 We honored our East Hampton Good Apples at Convocation on Tuesday, August 24th, 2021.
Good Apples are those staff members who make the
East Hampton Public Schools an outstanding school district as a result of their dedication and effort.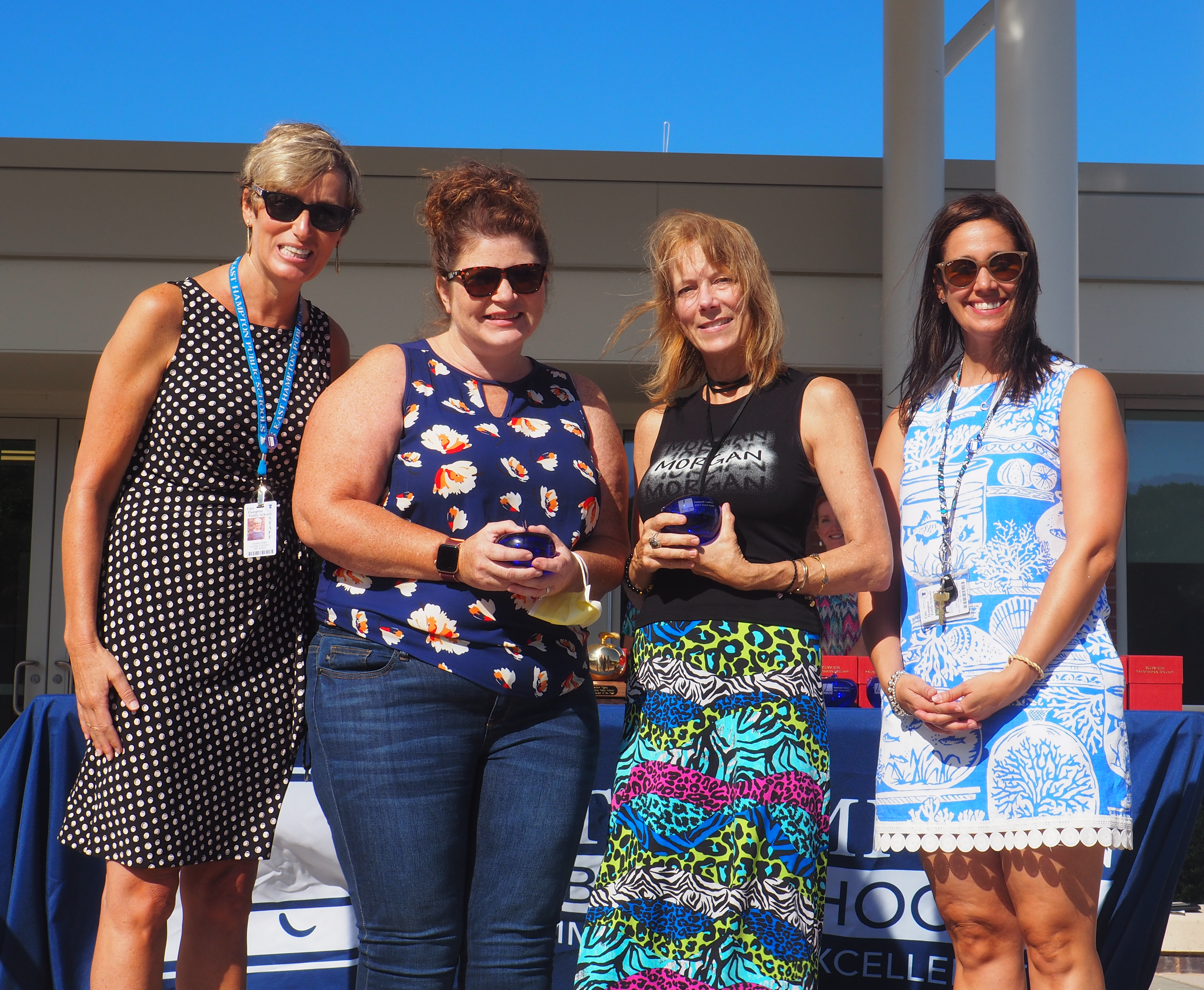 Deb Lawton
This good apple has worked with many students who have unique needs in our school system and she never fails to impress for many reasons. She takes the time to get to know the child. She figures out what motivates them, their likes and dislikes. One day, she ate a happy meal for her lunch because she knew the toy in the happy meal would motivate her student. She is also not afraid to do something silly or outside the box, if it means her student will stay engaged with the task. She is a team player and consistently collects and shares valuable information with colleagues. She is eager to carry out new programs to help develop her student's skills and she is always willing to jump in when help is needed. I always know that I can count on her, she is very positive and helps enhance our school's atmosphere. She is friendly, funny and cares about others. I believe that Memorial School is a better place with her in it.
Amy Gould
This staff member is the epitome of a "Good Apple" at Memorial Elementary School. For the past couple of years, she has worked in the literacy department as a paraprofessional. She goes above and beyond to support her students' academic and behavioral needs within their classrooms and in the Literacy Lab. Builds relationships with her students that are founded on trust, empathy, compassion, and respect. She is willing to try a variety of strategies in order to make her time with students productive, engaging and tailored to their needs. She proactively found a solution that would help a student who could not stay focused and seated. She saw a different classroom utilizing a "Boat Box." A "Boat Box" is essentially a laundry basket that a child can climb in when they need a movement break or different place to learn independently. They can read a book, complete a writing assignment or use a fidget tool while sailing in their "Boat Box." This student loved their "Boat Box!" This tool was such a success that even this child's classroom teacher utilized the resource with the student. This is just one of many ways she is a shining example of a good apple.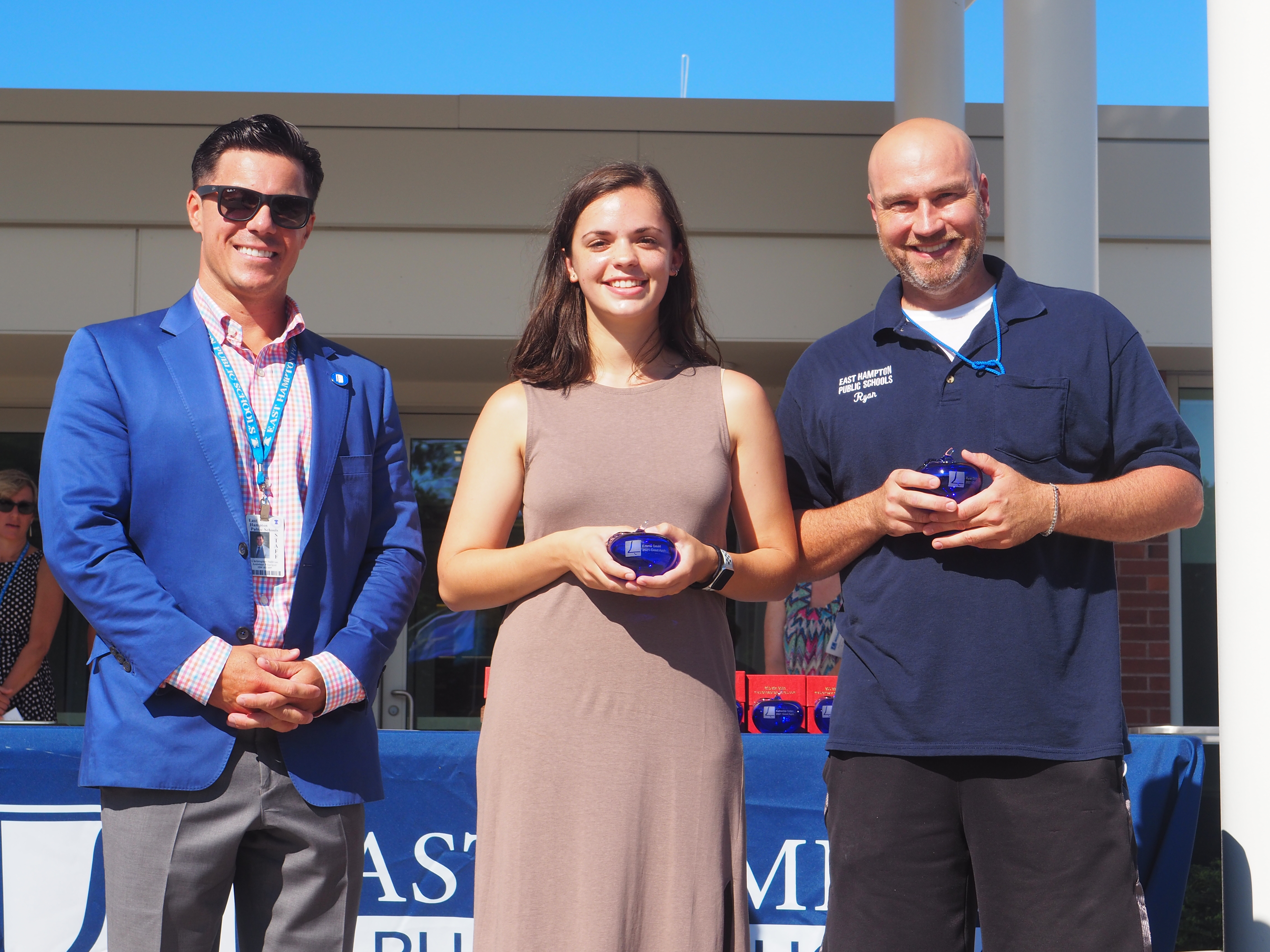 Emma Gould
This Good Apple is an enthusiastic, energetic, and fun-loving addition to the school community. This teacher quickly navigated how to make her content area engaging and meaningful while traveling room-to-room and floor-to-floor during the recent challenging year. Fellow staff members commented that this good apple makes people feel happy, heard, and appreciated. Possessing dedication and true artistry as a teacher, this educator truly reaches all students. So much, that students and staff collaborated to create tribute slideshows, videos and even write an original song in supporting this staff member's nomination for Rookie Teacher of the Year. Center School is fortunate to have this Good Apple.
Ryan Duffy
Soon after The Good Apple Forms were made available, nominations for this staff member began rolling in. Multiple nominations stated similar traits, such as, an upbeat personality, pride, and willingness to help above-and-beyond! This staff member takes time to foster relationships with students, engage them in real-life problem-solving skills, and is always willing to carve out a few minutes to satisfy student curiosity. When redesigning our STARS room, this staff member engaged students in taking ownership of their space by having them measure and help design the new layout. They are quick with a hello or a joke while balancing the ability to hold students accountable and take pride in their actions. One staff member summarized the value nomination perfectly by stating, Center School hit the jackpot on this one!
EAST HAMPTON MIDDLE SCHOOL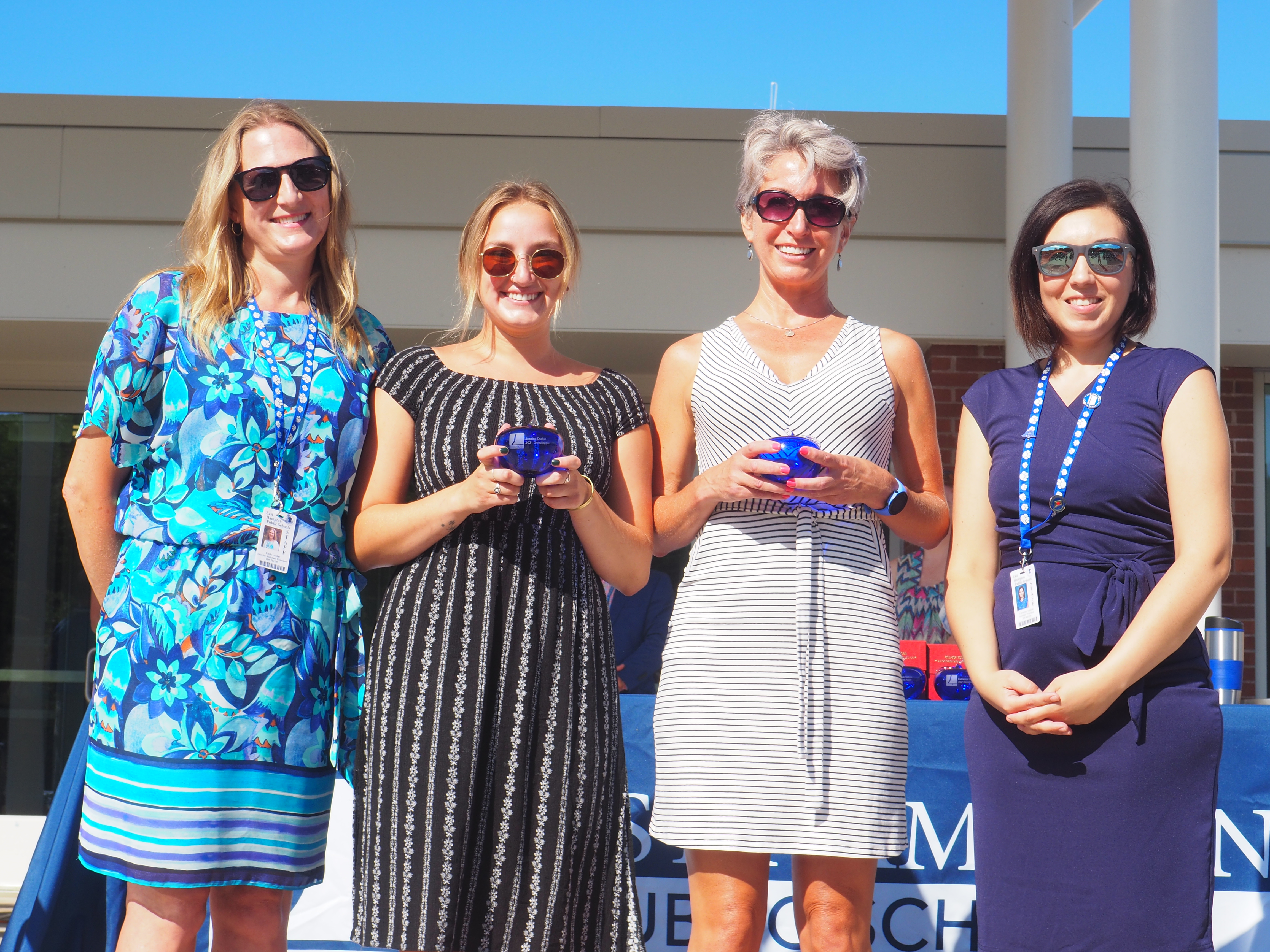 Christine Fielding
Nominated by several students, she is described as an amazing person. She is kind, thoughtful, and consistently greets each and every student by name as they arrive and throughout the school day. One student wrote, "I love seeing and talking with her. She helps students choose the books they need and always will brighten people's days. She is the best librarian ever!" Another student shared, "I used to go to the library just to be surrounded by her joy". When the traditional library media center model changed due to Covid protocols, she found a new and unique way to continue to grow students' love of reading by bringing the library and her passion for literature to them. From organizing and running the LMC, aiding with technology needs of student chromebooks and consistently being a support to students and staff, in whatever way is needed, her commitment to EHMS and our Panthers makes her very deserving of this Good Apple award.
Jessica Durkin
Throughout the last school year there have been many challenges that students inevitably had to face and one of the factors that supported students through the year were their team of teachers. One teacher in particular has been nominated by several of her students for her compassion, support, and student engagement in her subject area. One student wrote, "she is an excellent teacher. She makes her lessons fun and interactive. She teaches us about the subject and how it works. Over distance learning, she always made sure everyone was involved." Another student expressed, "She is a great teacher who motivates the whole class and made this year less stressful. She is such a nice teacher because she compliments you and has a positive energy that helps in making Science fun". She has been committed to the well-being of her students as a whole, particularly in a year where student social-emotional well being was impacted in such a significant way.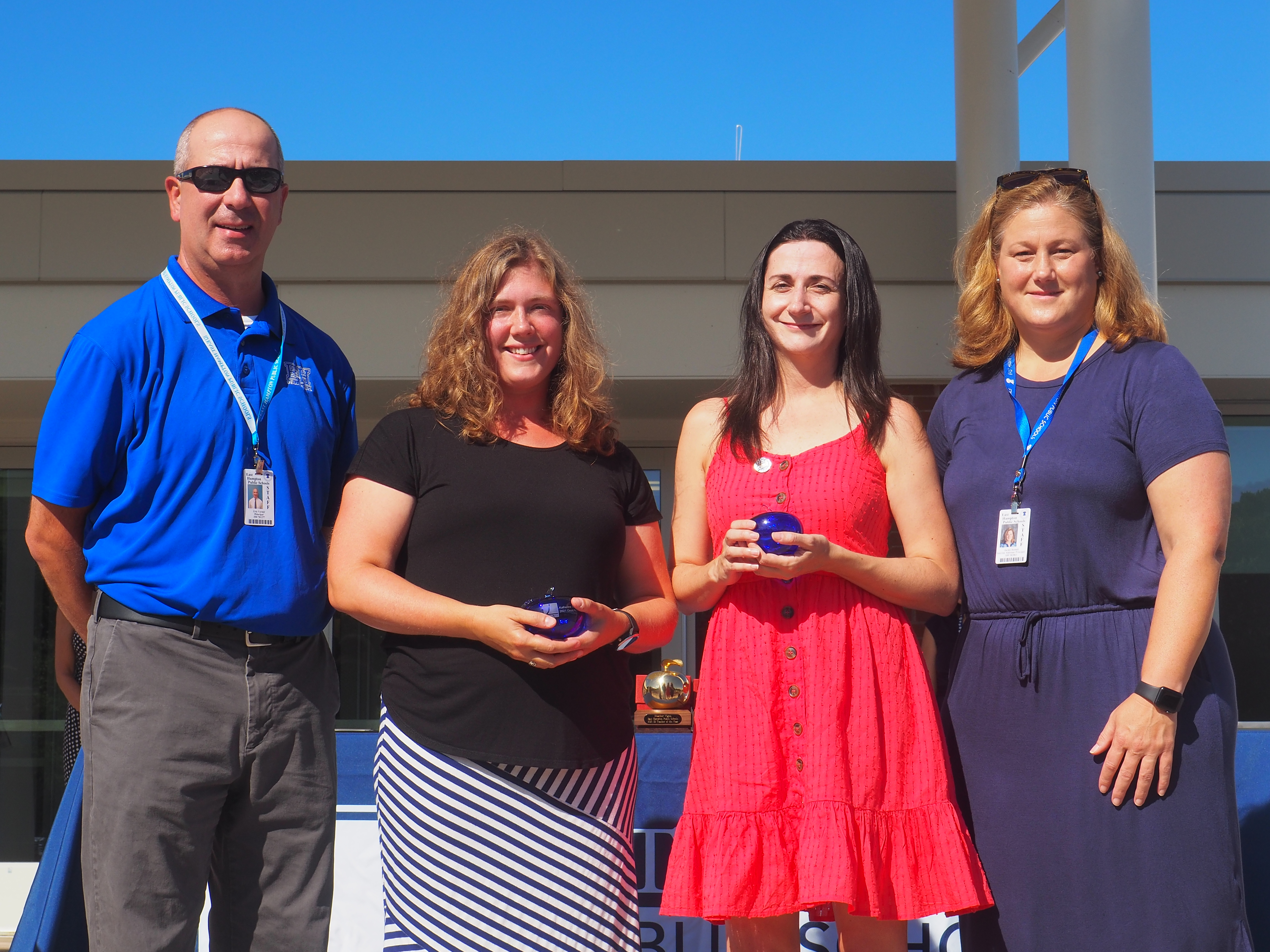 Nikki Galvez
This good apple is the consummate educator, team player, mentor, committee member, colleague and anything else that the high school needs. Always willing to go above and beyond to accomplish anything for the benefit of the East Hampton High School community. As a colleague, she shares and encourages everyone to be better educators. Anytime she learns something new, she is willing to share and encourages her department and other staff members to try new things. This past school year, she gave up countless hours of her time to complete our NEASC 2-Year report as well as to ensure that we were meeting the necessary recommendations for our school. She takes ownership of our school and makes sure that everyone has the support and expertise to continue to move our school forward for the benefit of students.
Katie Tietjen
She is the epitome of a Good Apple. She quite simply does it all. When it comes to collaboration at East Hampton High School, she is the ultimate example of working together and supporting everyone. From English, to Math, to Capstone, she co-teaches with everyone, shares current and relevant ideas and insight into improving existing practices. During this past school year, she stepped up to teach English to students at home and put in countless hours to work with both in-person and remote learners. She managed to do this on top of an already packed schedule. In her "spare time", she is going back to school to continue to improve herself professionally. She is truly a model educator in her willingness to help others, connect with students and get them excited about reading and her continual desire to push herself to grow both personally and professionally is without equal.