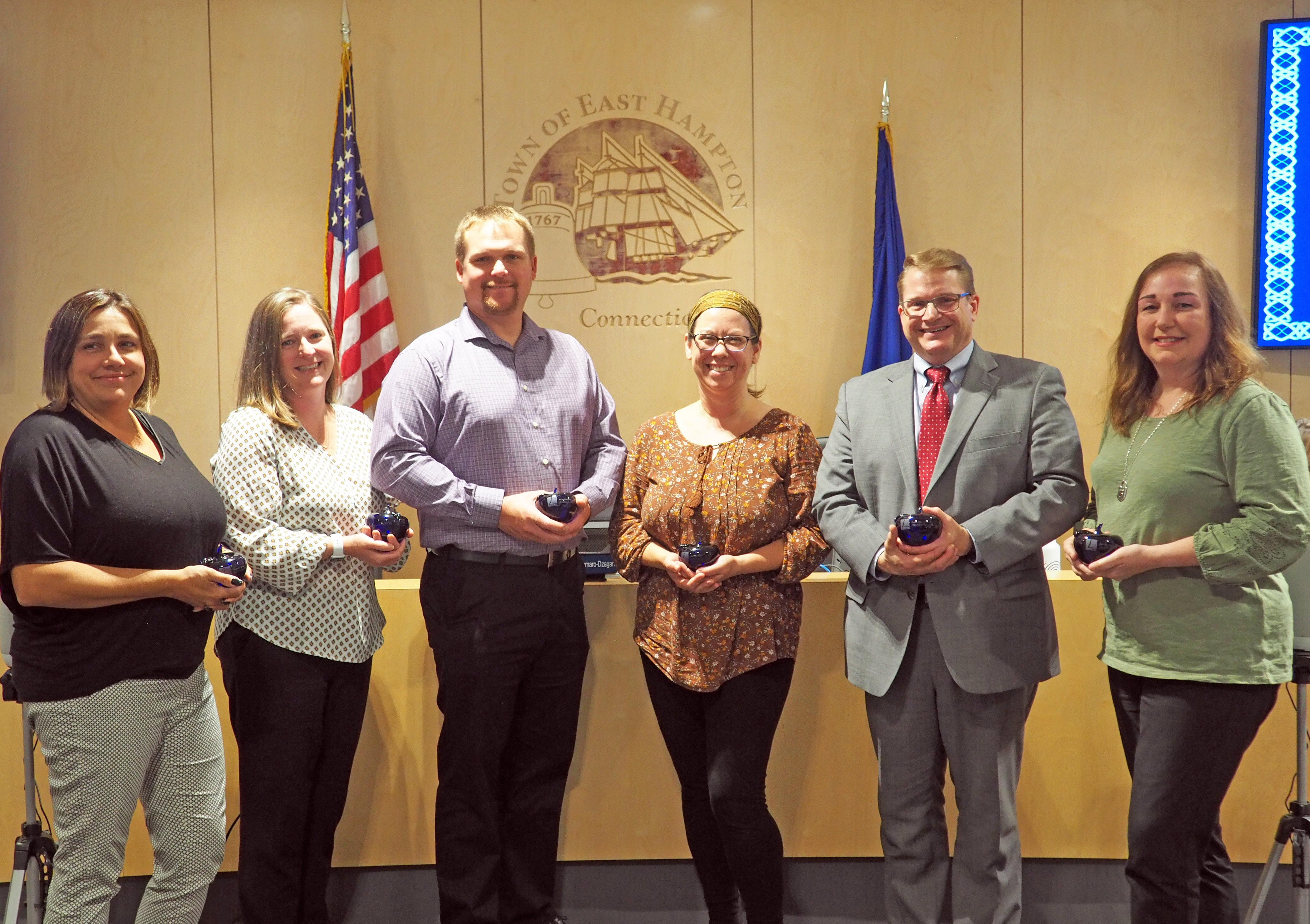 Pictured from left to right: Center School - Brenda LaFleur; Middle School - Nancy Kohler; Memorial School - Richard Wanat; High School - Marissa Taylor; District Wide - David Cox; Middle School - Nancy Oakley
Rick Wanat, Memorial School
Rick Wanat has consistently given his time, energy, and creative talent to Memorial School. Most recently, he went above and beyond to support the school's beautification committee. After his own full days at work, Rick spent several evenings helping to make Memorial's beautification vision a reality. He gathered materials, donated his time and equipment to dig and haul dirt, and spread stone - and he offered his expertise on design! His efforts paid off and the front entry way was transformed! The school couldn't have completed this project without his help, and all members of the Memorial community are very grateful. Rick Wanat is a leader in the community and an inspiration to students and staff. Our schools are lucky to have such a kind, hard-working, and supportive member of the community. Rick Wanat is a true friend of education.
Brenda LaFleur, Center School
As a new family to the school community for the 2021-2022 school year, Brenda LaFleur has been an amazing support of Center School. Brenda offered her time to volunteer in the classroom and attended the writing celebrations to support the great work the students have accomplished. When families were asked for their support of classroom activities, Brenda was always quick to volunteer. Beyond donating her time, Brenda also donated to fund a classroom initiative for flexible seating to support student learning in the classroom. Through these resources, the classroom environment for Mrs. Thompson and Mrs. Moody's students was transformed into a more flexible environment for students to enjoy their love of reading. Brenda and her family have also graciously donated items from their business to support Center School staff during special events. Before coming to East Hampton, Brenda was an avid participant in her school's PTO. We are lucky to have the support of the LaFleur family in East Hampton.
Nancy Oakley & Nancy Kohler, Middle School
The Middle School PTO, led by Nancy & Nancy, has been a consistent support for the Middle School Panther community. During the last couple of unprecedented years, the EHMS PTO has supported both our students and staff members. With gestures to show appreciation and build staff morale, PTO graciously demonstrated small acts of kindness like snacks and positive messages to show gratitude for the amazing work our staff has done to meet the needs of our students during this school year. The EHMS PTO is always willing to collaborate with teachers and address any needs to support student learning and the classroom environment. They helped in the successful implementation of Panther Fest as well as the second annual Panther Prowl. They are also always willing to volunteer, attending the 5th grade parent event in helping to welcome new Panther families. With honor, the school is excited to present both Nancy's with the Friends of Education award.
Marissa Taylor, High School
Marissa Taylor has given so much to the East Hampton High School theater community. She has volunteered to help on several stage productions, sharing her artistic talents with the young cast of actors in the shows. Marissa is someone you can count on to get things done. One moment, she is creating beautiful props for a musical number, and the next she is sewing a costume back together backstage with seconds to spare. She has given countless hours to the school, all with a smile on her face, and a positive attitude for the students. She truly embodies the spirit of a Bellringer, showing compassion for the performers and ingenuity in her creations. The theater department would be lost without her, and the High School is so thankful for all she has done for the school community.
Dave Cox, Town Manager, EHPS District
Dave Cox is a true Friend of Education. Dave has worked since his arrival in East Hampton to bring together the interests of the Town and the Schools. His visibility at such school events including Graduation and New Teacher Orientation has demonstrated his interest in students and families, as well as welcoming new employees to the town. Dave has been the key in the successful renovation of the High School Fields, Track, and Tennis Courts, working with the Board of Finance and the Town Council to secure the necessary funding to make this desperately needed project a reality. The result is a new athletic complex for school teams, town teams, and those in town who just wish to enjoy the facilities. Dave looks at the annual budget from a holistic point of view, knowing that even though the budgets are bifurcated into two distinct budgets, it really is just one pool of taxpayer dollars that support this community's investments. Interested in the voices and opinions of all, Dave has a way of bringing the elected Boards together for the common good and uniting the people of this community to make East Hampton the great town that it is. Uniting this community for the good of all, Dave has helped put the town on a fast-track trajectory of new heights. This community is fortunate to have Dave working every day for the good of East Hampton.