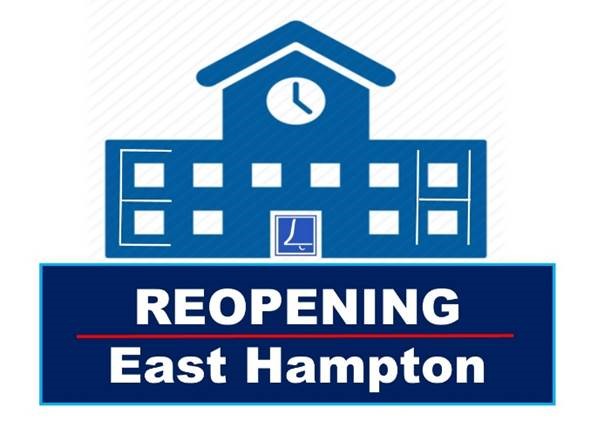 District Communications:
Please monitor your emails, and or ParentSquare for the latest information from our
Superintendent of Schools, Paul Smith.
(you may also visit this page for the latest weekly Superintendent Update)
To Parents, Teachers, Staff Members, and the Community of East Hampton:
The State of Connecticut is offering flexibility to school districts to start the 2020-21 school year. One of the options that is strongly being considered by a number of school districts is a structured transition to a full reopening after beginning in a Hybrid schedule in which 50% of students attend two days in a row, followed by a day of synchronous distance learning, and then completing two days of self-directed distance learning. The East Hampton Public Schools will utilize this safe and measured approach to reopen our schools upon approval by the Connecticut State Department of Education. An announcement is being made today (Monday, August 3) to allow families to begin the necessary planning for the first four weeks of school beginning Tuesday, September 8 until the transition is made to full in-person learning on Monday, October 5.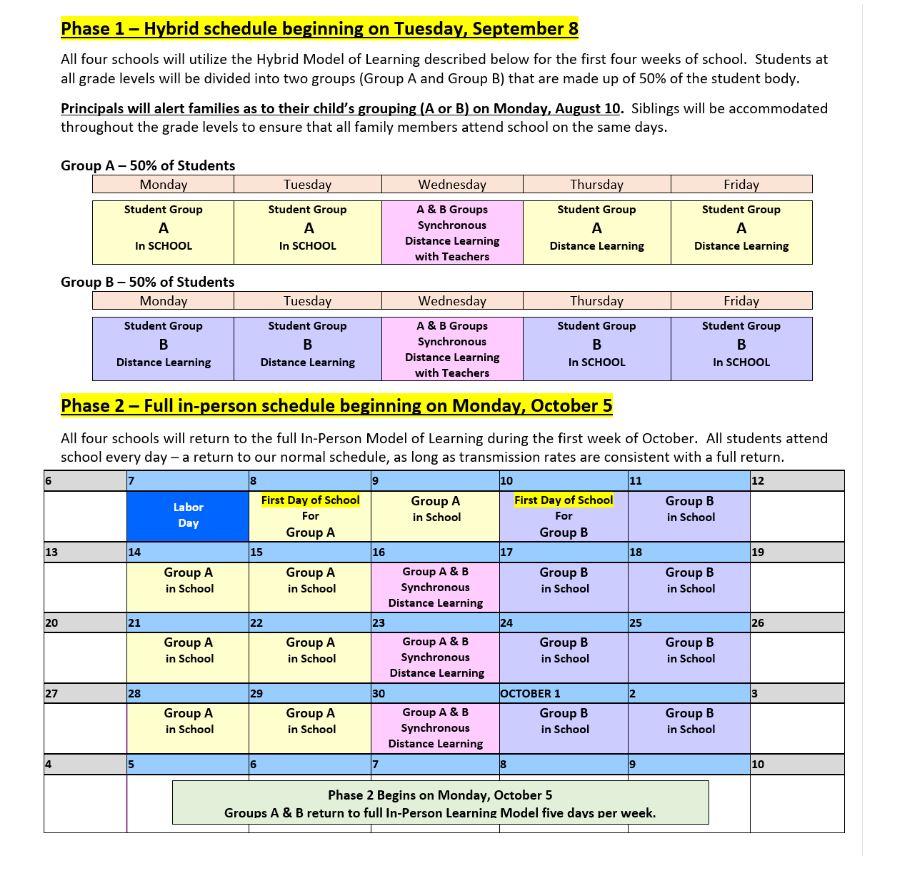 July 9, 2020
Attention to all members of the East Hampton School Community:

As you are likely aware, the State of Connecticut is currently planning for a full reopening of schools in the fall of 2020. Guidance on reopening and various requirements from the State Department of Education were sent to each school district at the end of June encouraging the development of local plans.

In our own planning for reopening, it has been essential to create the safest environment for students and staff upon return. And, to confirm the communication sent to staff and families in June, East Hampton Schools are currently planning for a "full, safe, and appropriate" reopening of our schools in the fall of 2020.

The purpose of this email is to share our current version of those plans. The document, "Reopening our Schools" is attached. While it is lengthy, it's an opportunity for each staff member and parent to see the seriousness with which our schools are preparing for reopening. The plans include (1) guidelines for students and staff members; (2) details on various scenarios for schooling should there be a mild spike or a large surge in the virus locally or in our state; and (3) a checklist to be completed over the summer to ensure the safety of our students and staff.

If you prefer the shortened version of the plans, simply read pages 7-9 for the schools' expectations for opening and remaining open. While we are planning for a full reopening, pages 10-13 describe some of the possible scenarios for various learning models should the full, in-person model need to be adjusted at any time during the year.

If you have read any of the publicity on the state's reopening guidelines, you will find our schools' expectations to be similar. Students will need to wear masks while traveling on the bus. Students and staff will need to wear masks in the schools, but we will find time for "mask breaks" throughout the day. Social distancing will be practiced to the greatest extent possible and classrooms will have non-essential items removed to create the most room for desks/tables. And, hand sanitizing bottles and station will be plentiful around the building.

There is a district reopening planning committee and each building has a reopening planning committee to prepare for the safest and most appropriate environment for our students. We know that it is important for our children to return to school in person after our lengthy distance learning in the spring and our current planning will ensure that we safely reconnect our teachers with our students.

Teacher & Staff input is important in the reopening process and all teachers and staff members are welcome to attend a meeting on Thursday, July 23 at 10:00 AM in the new Town Hall Training Room (with masks) or via ZOOM (details to be sent).

In addition, parents will receive a survey from the schools in which a few simple questions are asked. The first simply asks whether parents will send their children to school in the fall. For those answering, "NO," a follow up question will be asked whether parents will participate in the State of Connecticut Remote Learning Hub with some support from East Hampton staff or if parents will participate in Homeschooling with no support from East Hampton staff. All children, regardless of survey answers, will be assigned to a teacher in the fall (Grades K-5) or have courses assigned (Grades 6-12), as students who may initially stay home will be invited back to school at any point during the school year. All assignments will be shared with families in a mailing sent by each school on Monday, August 3.

The next question on the survey involves bus transportation. As it is difficult to provide social distancing on the buses, students must wear masks. It would be helpful for our schools to know who will plan to drive their children to school to aid in any revisions that may be necessary to the parent drop-off process in the morning and the pick-up process in the afternoon. Answering that students will be driven does not cause a child to be removed from the bus and parents are welcome to change their mind during the year; the information simply assists the administration in planning for traffic and procedures at arrival and dismissal.

Thank you for your understanding and your patience during the summer. All of our planning is based on local and state trends in COVID-19. We are hoping that the lower transmission rate in our area remains the same as the fall approaches.
Any questions for the Superintendent are welcome, as always!

Phone: 860-365-4000 / Email: psmith@easthamptonct.org

Sincerely,
Paul K. Smith, Superintendent of Schools

East Hampton Distance Learning Information -
Starting March 17th, 2020 the East Hampton Public Schools began partnering with our families to provide Distance Learning to our students in response to the unprecedented events facing our community. First and foremost, we believe it is in the best interest of our students to keep them engaged and connected with their learning, to provide them intellectual stimulation, and to give them an outlet to connect with their teachers.

However, as educators who have devoted our professional lives to our students, we inherently recognize the challenge that Distance Learning puts on families. We know families are managing shifting work schedules and expectations, redesigning family life, and trying to maintain calm in the face of uncertain times. We are sensitive to the fact that providing a home learning environment for your child(ren) presents complications. We are here to work with you through these events, to respond to your questions and concerns, and to provide you with tools to make this transition more manageable.
We are deeply proud of the teachers of East Hampton for their significant efforts to transition so quickly to Distance Learning. We are always proud of their accomplishments, but we are especially grateful to them for their collective dedication. You will continue to receive regular updates from building principals and soon you will begin to hear from your child's teacher on a consistent basis. Do not hesitate to contact us with questions and concerns. Together, we will navigate these waters with a shared commitment to providing stability to our children.
This page will be periodically updated as we are able to offer ongoing and new supports for our students and staff.
Memorial School Kindergarten & Preschool Registration: What is happening with Kindergarten and Preschool registrations?
Please monitor communications from administrators. Deadlines for registration will be extended, the exact date is yet to be determined, and may depend on the tentative day that schools reopen.