Class of 2022 Graduation When: Scheduled for 6 pm Where: Athletic Fields behind the High School Link to Graduation Livestream:
https://youtu.be/SLWmeG6uK1c
The almost-graduates enjoyed the cheers and smiling faces awaiting them at Memorial School during their Bellringer Walk on Wednesday. With Graduation just around the corner the Seniors are all smiles back at the High School as well.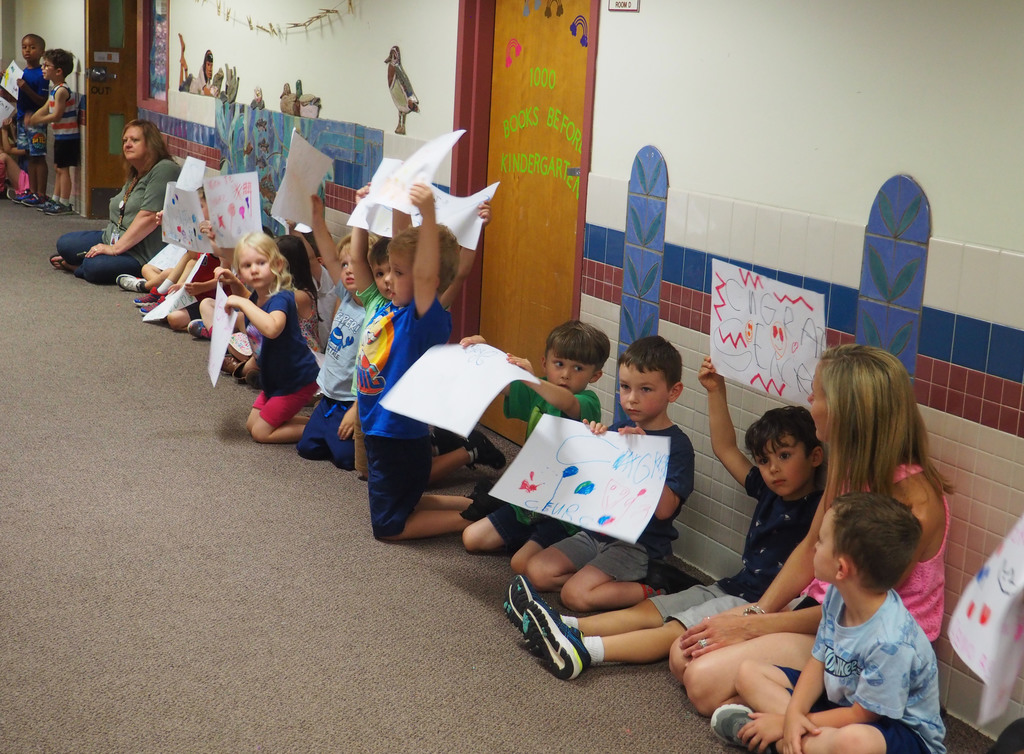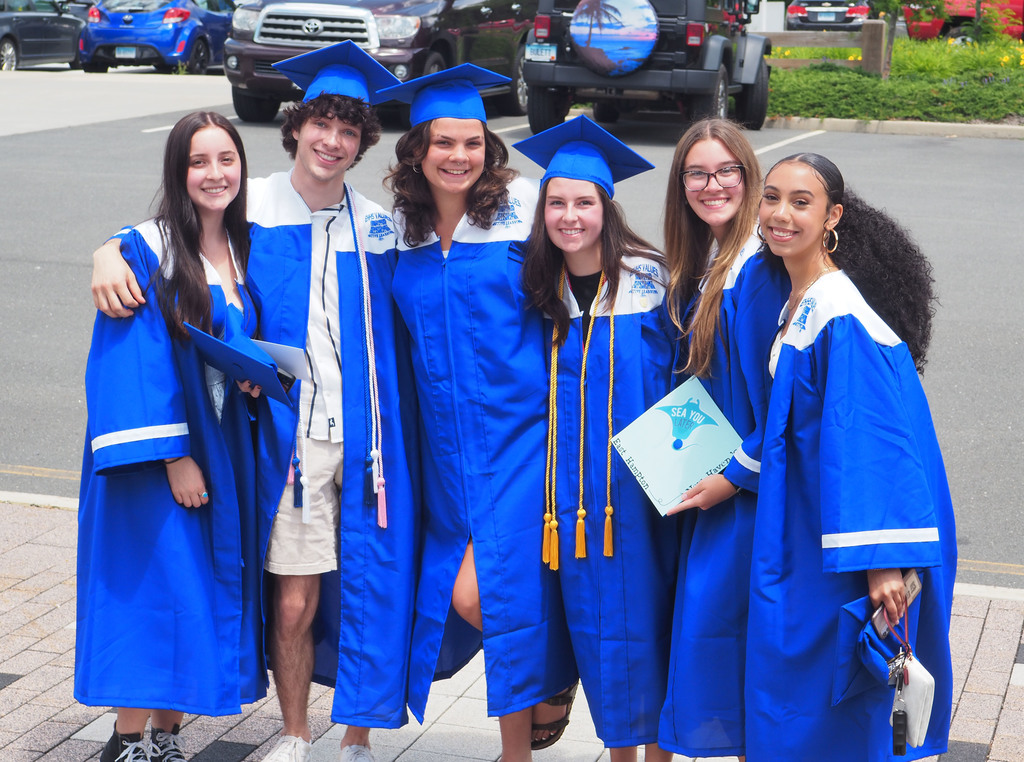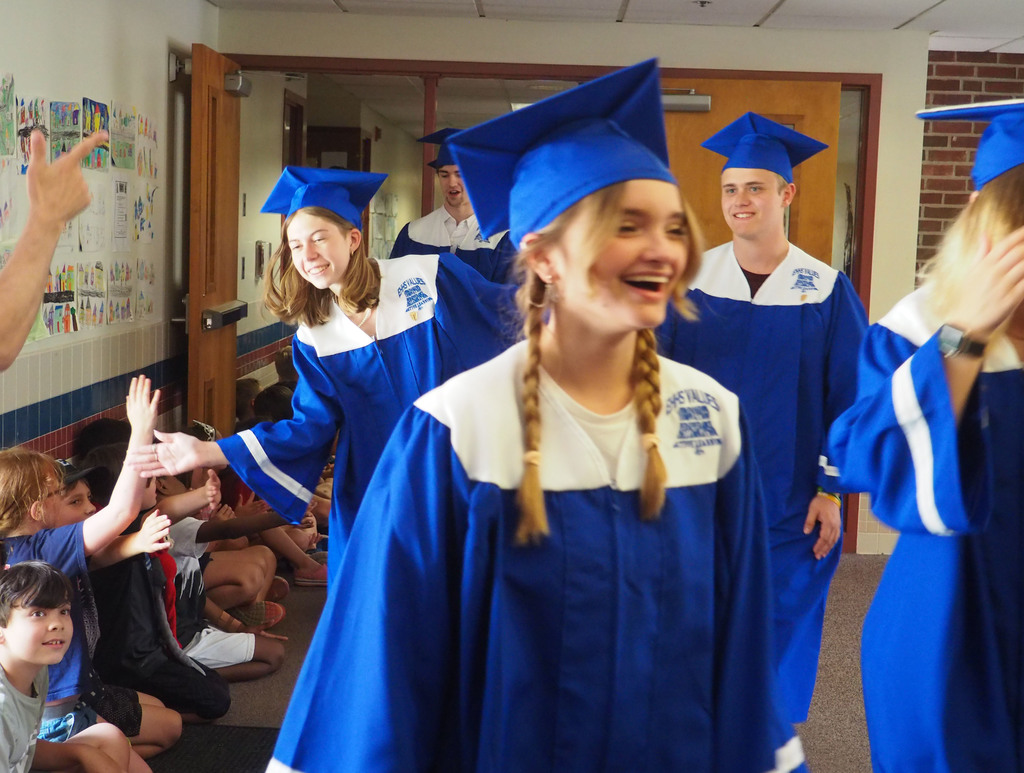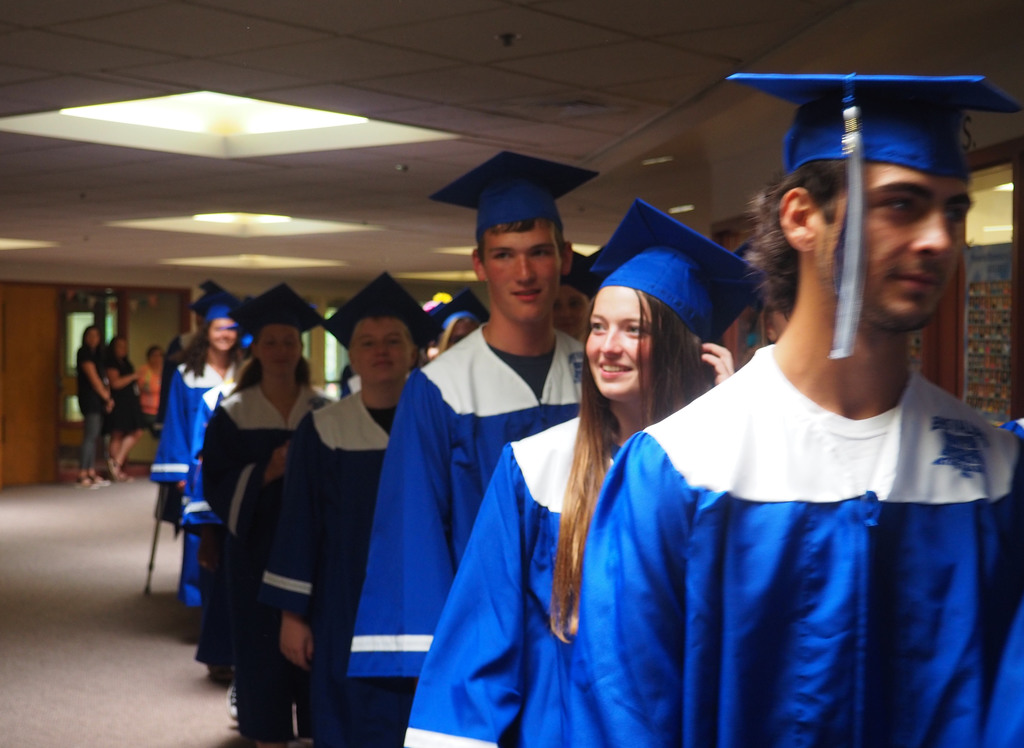 All throughout the day today select Capstone projects were highlighted in the EHHS Library Media Center, and teachers were able to bring their classes to visit and learn about the various projects. The public is invited to come to the main 2022 Senior Capstone Expo today, Tues. 5/31 from 4:00 - 5:30 PM. Students will be set up in the Cafe, LMC, T-Bell, Lobby hallways and outside! The projects range from website creation to learning to weld, to creating books and so much more!
Yesterday evening EHHS hosted its Honors Award evening. Book Awards, and Medals, Academic Awards, and other honors and awards were awarded to a diverse and deserving student body. Our Class of 2022 Top Ten Academic Scholars were announced and awarded their medals. We are so very proud of everyone's accomplishments!
Earlier this morning Seniors from the East Hampton Senior Center Creative Writing class came to the high school to meet with Mrs. Regan's 12 Grade Creative Writing Class. The groups have been collaborating for the last couple years meeting via Zoom to creatively write poetry together, and finally they were able to meet and write in person. It was a wonderful morning, with the 12th grade seniors interviewing the Senior Center seniors about their lives and experiences. We are so thankful to have had this opportunity to reflect and come together as a community - the Seniors and the Seniors.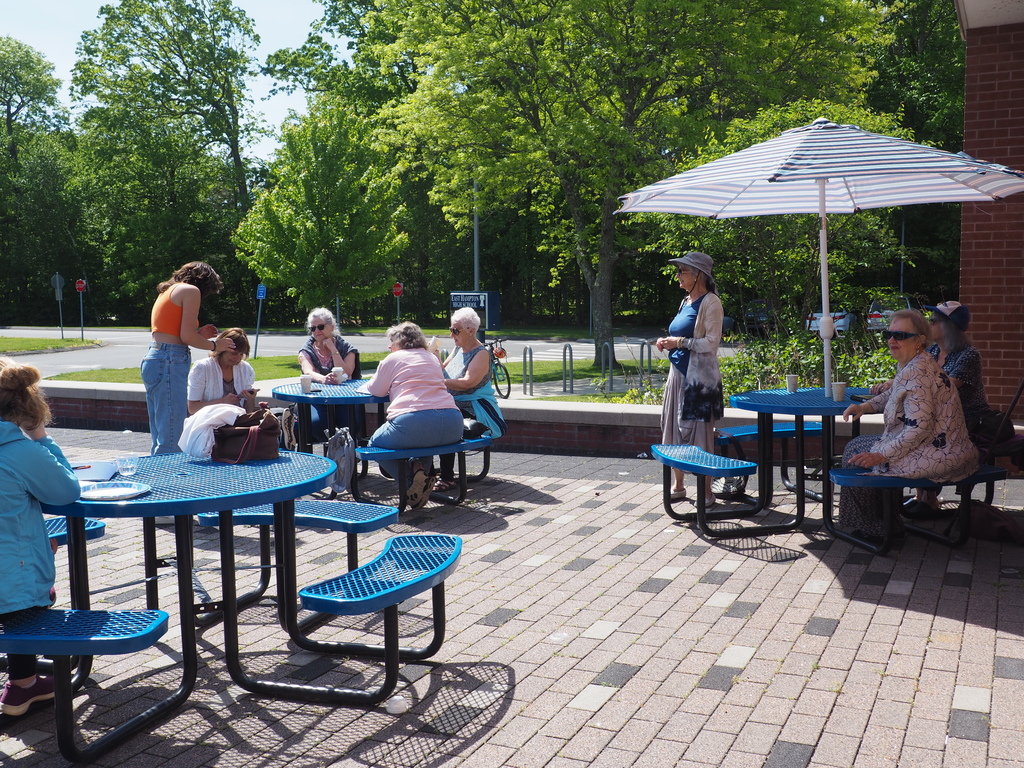 We had our first all school assembly today in over 2 years. Stephen Hill is the founder of Speak Sobriety. He shared his very personal story of a gradual downward spiral that started in 8th grade, his struggle with stigma and addiction, and story of hope and almost 10 years of living in recovery. Students will hopefully be motivated to make smart choices after hearing Stephen's talk. Thank you to the East Hampton Prevention Partnership for sponsoring this speaker.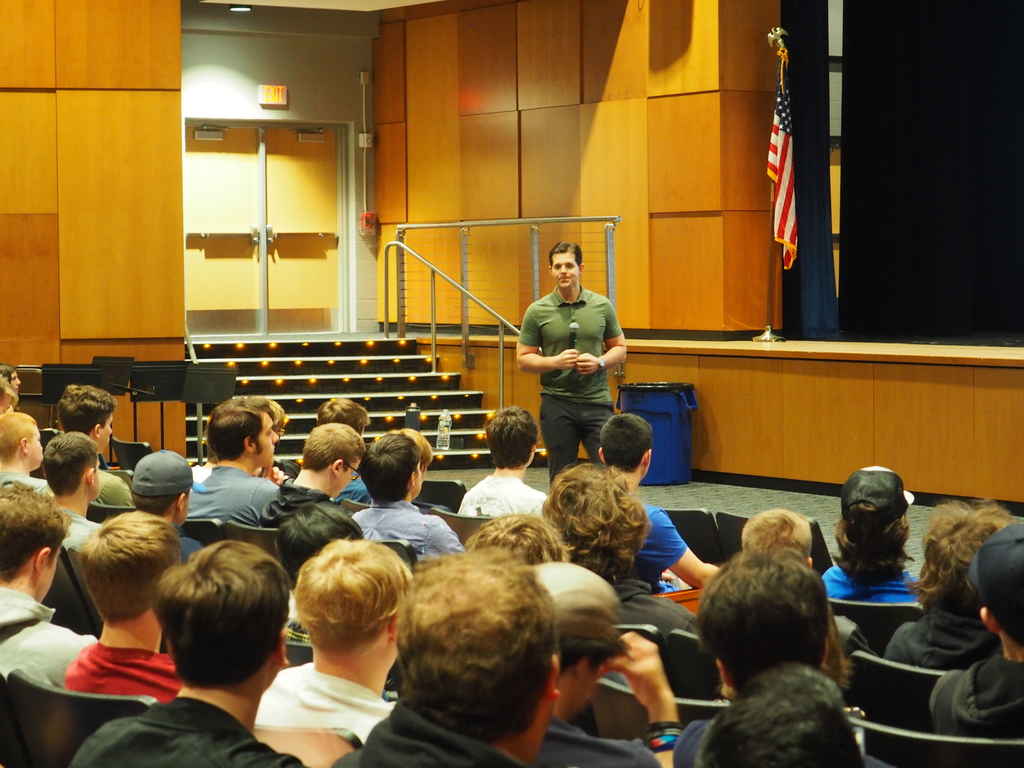 Mrs. Flannery's AP Literature students kicked off their inquiry-based research assignment on any aspect of Shelley, the gothic, or Frankenstein with a chance to dialogue with a virtual visitor in today's class. Dr. Robert Smart, Professor of English at Quinnipiac University a former professor of Mrs. Flannery, and an expert in gothic literature and Frankenstein, chatted with the students for 2 hours! The students got a lot out of the dialogue and it will be interesting to see how it effects the way they research for their final projects next week.
It's Nutmeg voting time! Connecticut's Nutmeg Book Award recognizes excellence in children's and young adult literature, and kids and teens from around the state determine the winners. EHHS students are encouraged to vote for their favorite nominee from this year's high school list on this form:
https://forms.gle/e3CAGWciMJqTMYS46
. The deadline is Tuesday, May 3rd. Mrs. Tietjen will then submit our school's votes to be counted at the state level.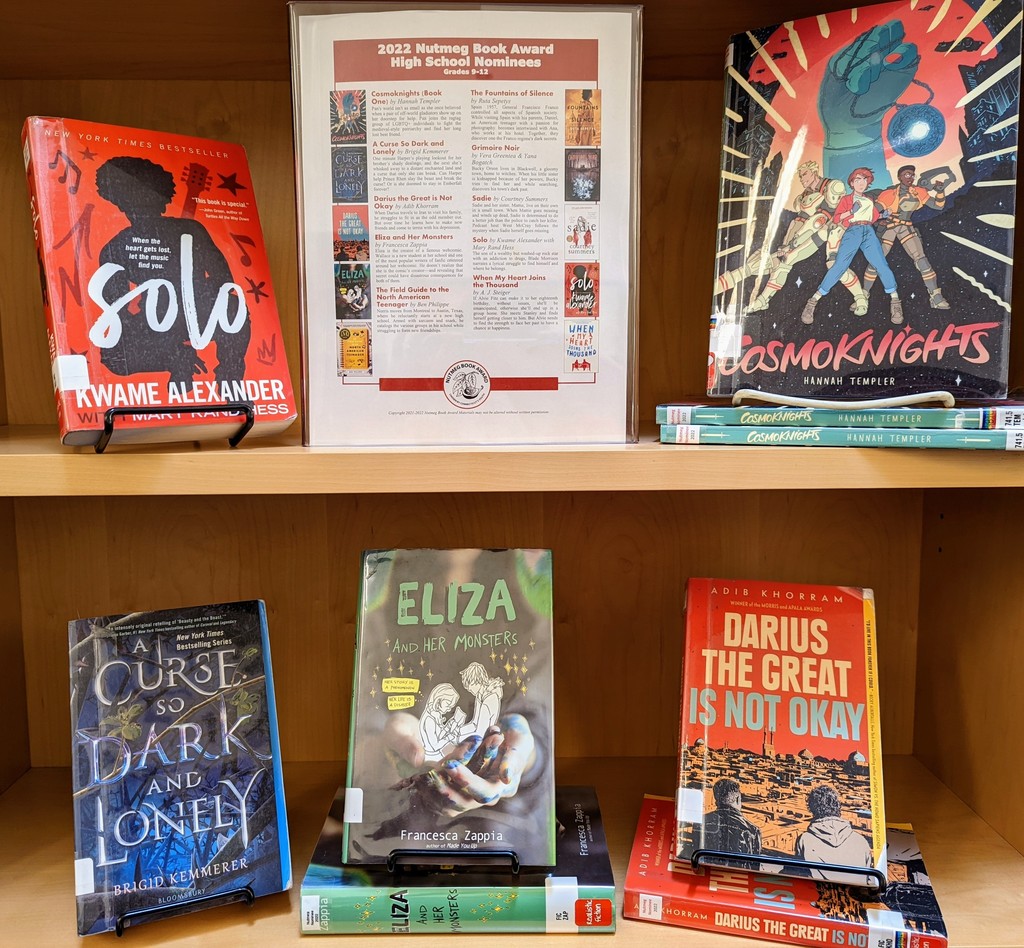 Employee of the Month - April 2022 - is Cindy Siena, East Hampton High School Custodian Congratulations Cindy!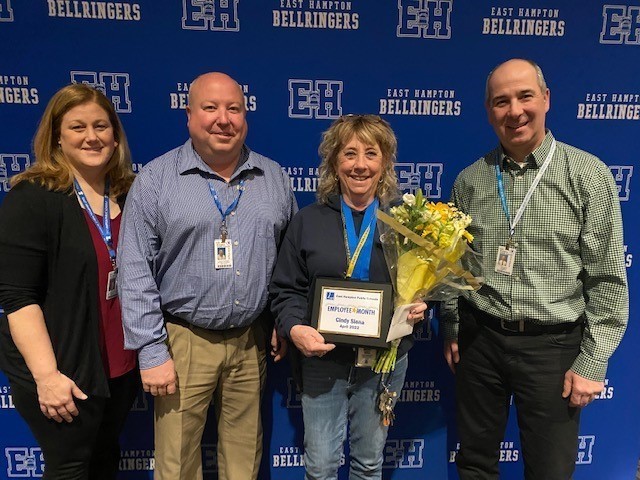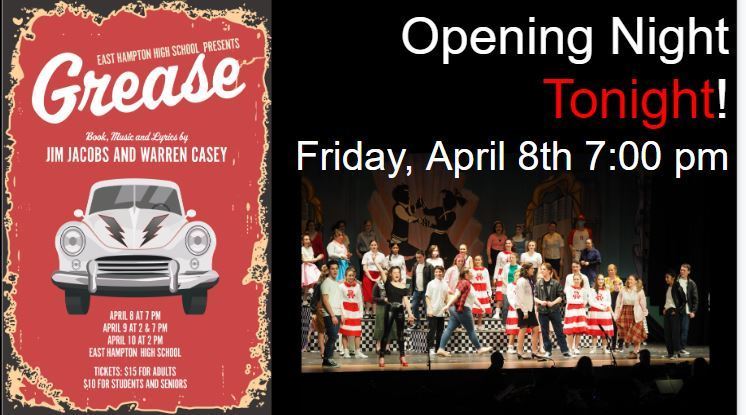 When the EHHS cafe found itself short staffed today, some special lunch servers answered the call the help out. It was truly amazing to see our school community support each other, and the students loved it! Sometimes it takes a village... and the EHPS village is amazing!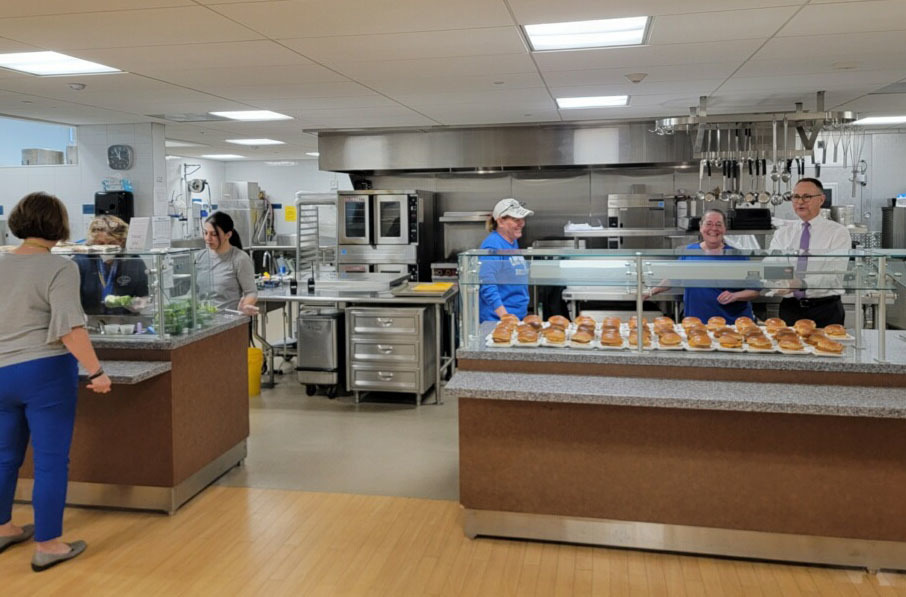 Don't forget! The Opening Reception for EHHS and EHMS Artists is today - Tuesday, March 29, 2022 - from 5:30-7:00 PM at East Hampton High School. The Interact Club with support from the National Honor Society is having a bake sale fundraiser for Ukraine. East Hampton Rotary Club is coordinating this effort, and all proceeds will benefit humanitarian relief with the help of Rotary International and Rotary clubs in Ukraine and Russia. Please feel free to donate even if you don't feel the need for a delicious treat!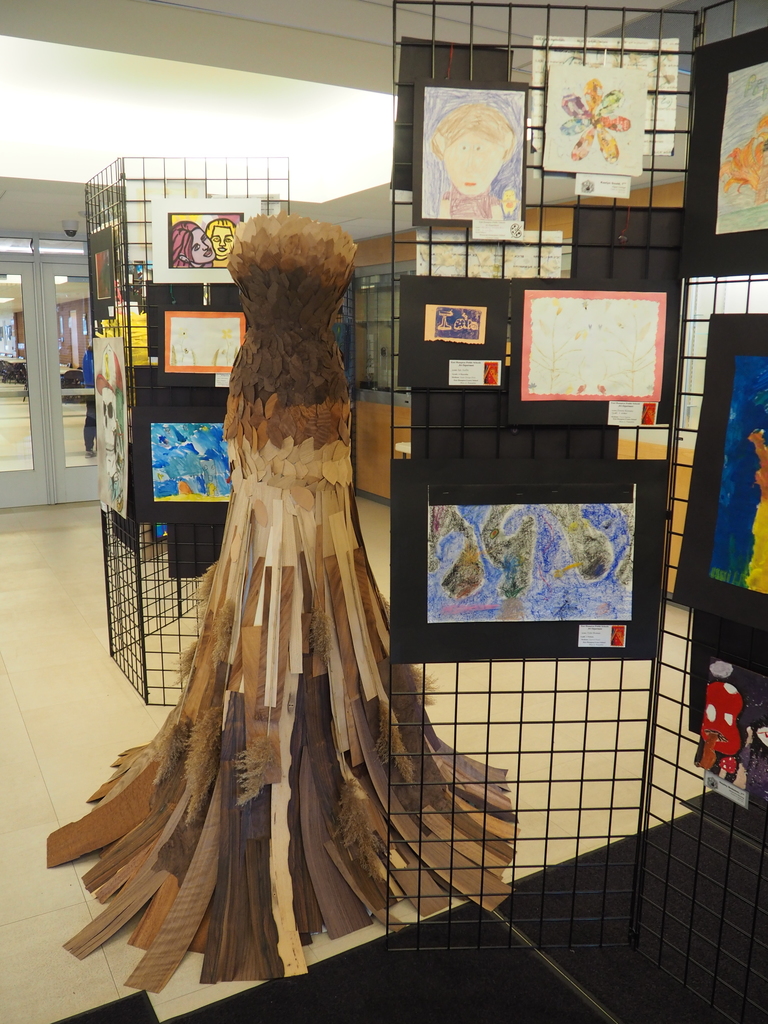 There will be an early dismissal for the East Hampton Public Schools on Wednesday, March 9.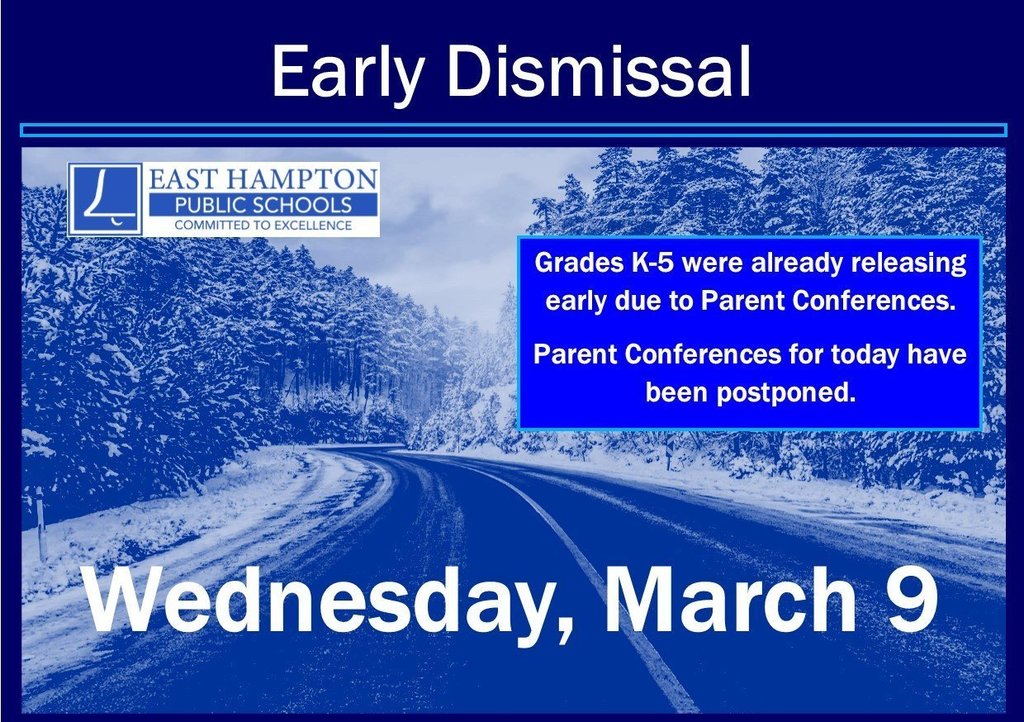 From the Library: Author Yamile Saied Mendez wove together fascinating stories about culture, writing, and futbol for EHHS students on Wednesday. Her award-winning novel Furia is "a powerful, #ownvoices contemporary YA for fans of The Poet X and I Am Not Your Perfect Mexican Daughter set in Argentina, about a rising soccer star who must put everything on the line—even her blooming love story—to follow her dreams."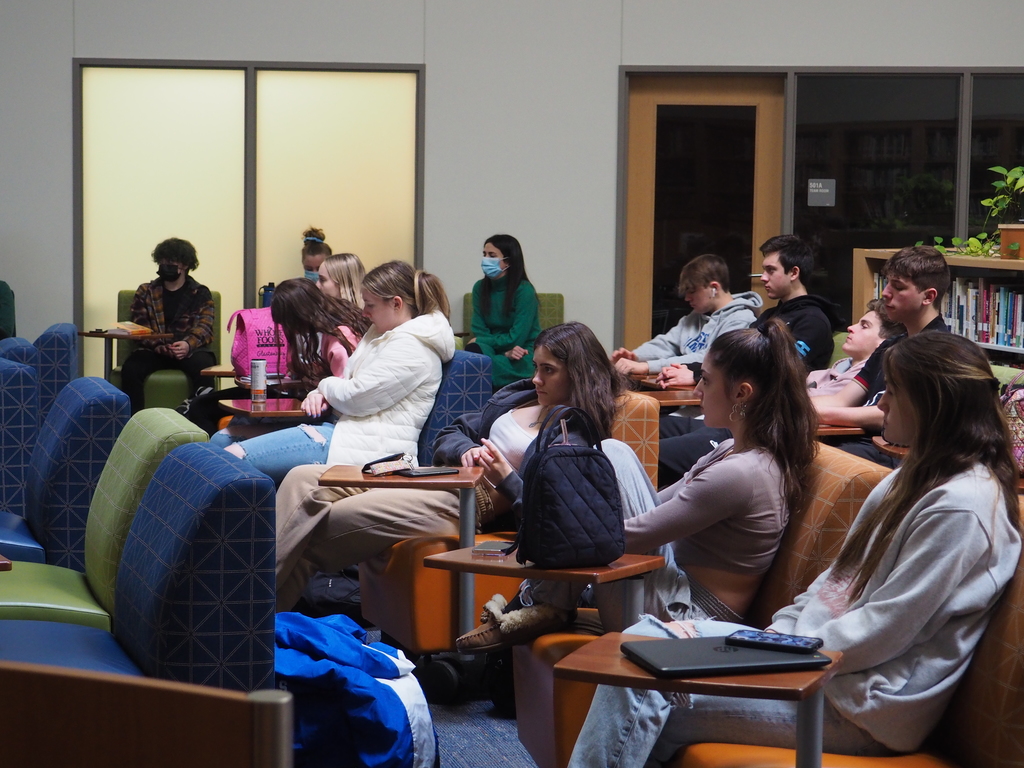 School is CLOSED on Friday, February 25 due to the wintery weather of snow, sleet, and ice.
Due to the potential for icy roads and dangerous driving conditions later in the morning or early afternoon, there will be no school on Friday, February 4 for the East Hampton Public Schools.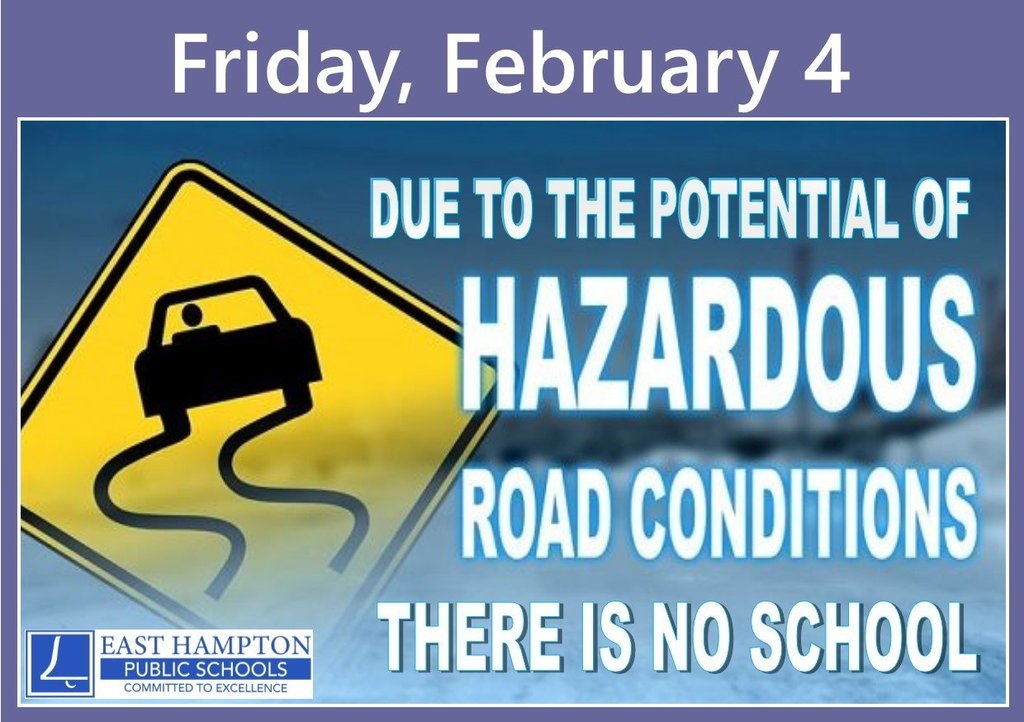 Our HS students were enraputed by Jason Reynolds virtual author visit today. He penned such bestselling and award-winning books as Long Way Down and Ghost. The visit was facilitated through RJ Julia bookstore's Authors to Schools Program. In this (virtual) visit Reynolds answered questions from high schoolers around the state on his creative process and experiences as a writer. His thoughtful comments gave students a lot of insights about the importance of the arts in our lives. He especially focused on discussing the fascinating story of his collaboration with his friend Jason Griffin on the creation of their new book Ain't Burned All the Bright, a mashup of Reynolds' writing and Griffin's art that explores the period of lockdown during 2020.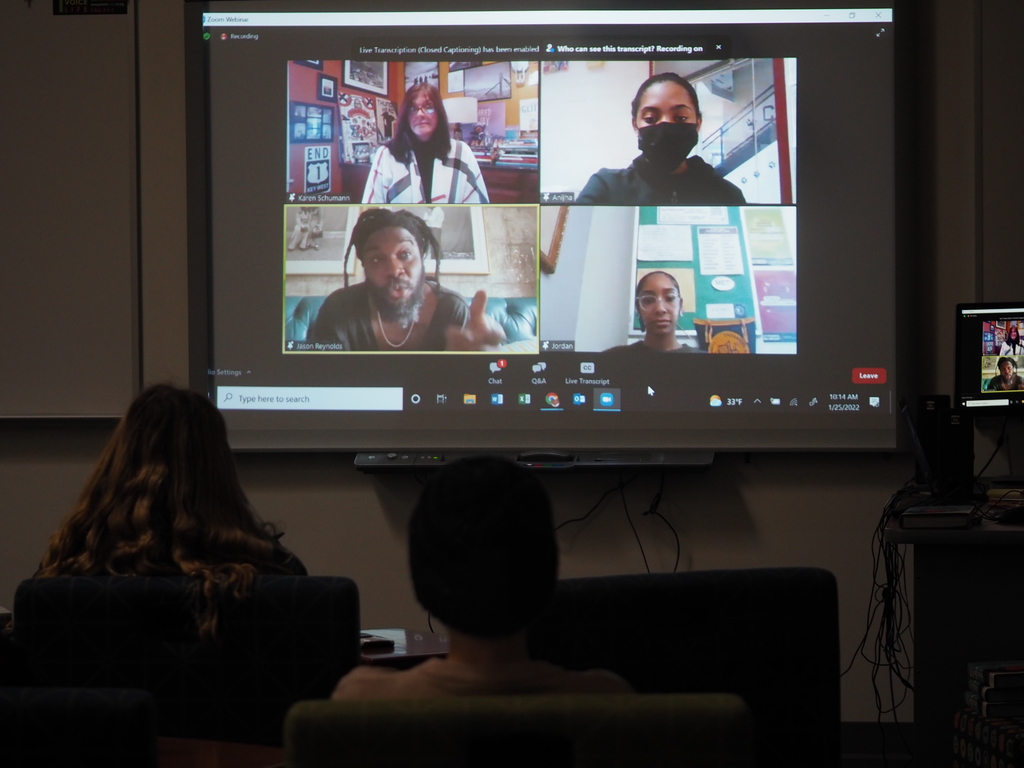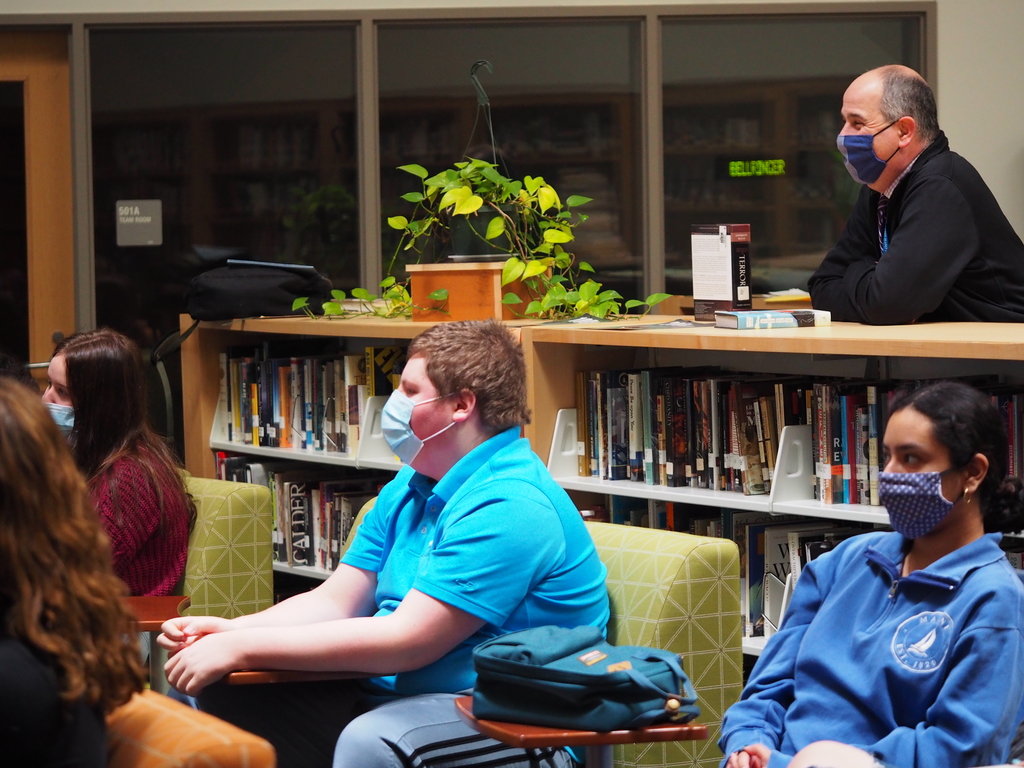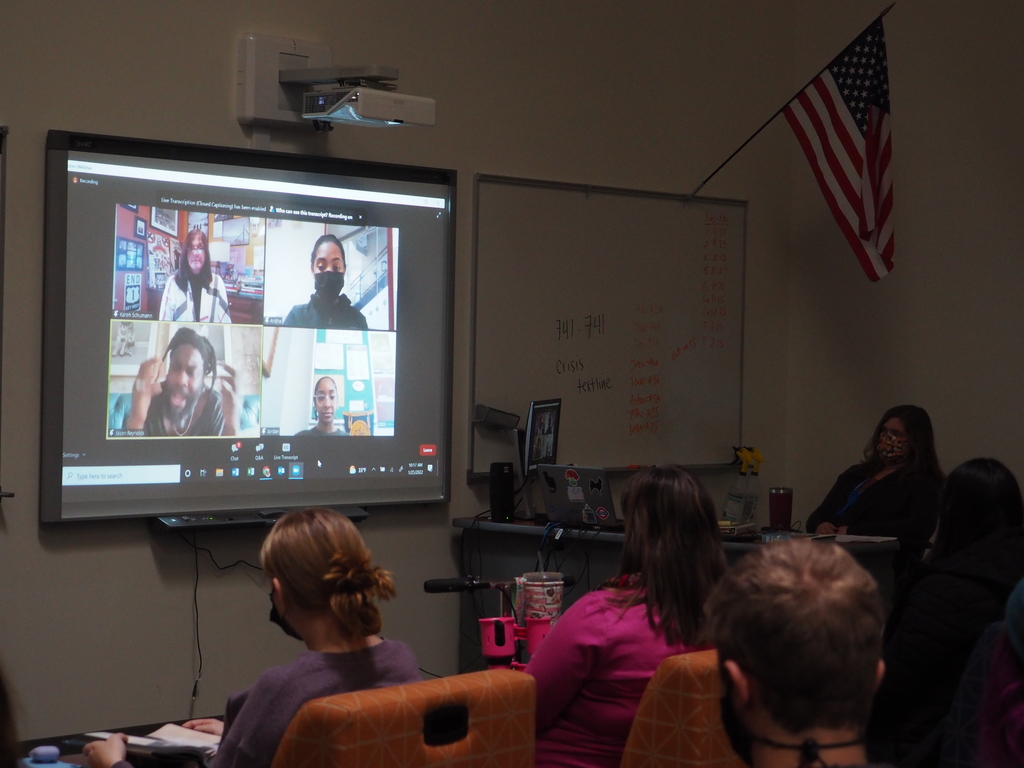 No School for East Hampton Public Schools on January 20.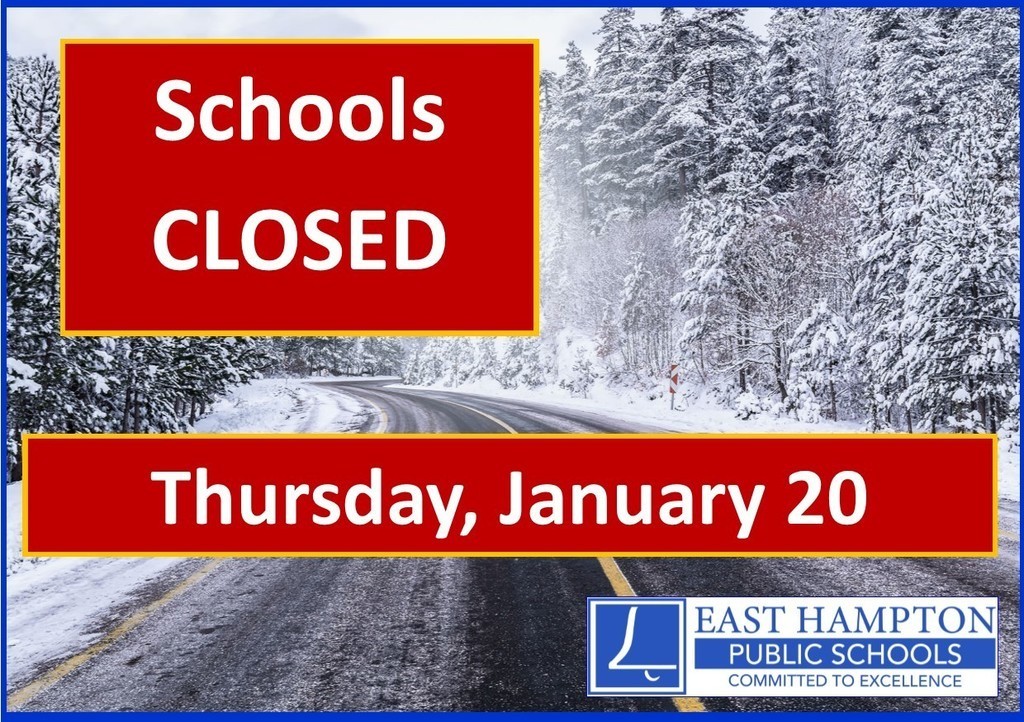 Schools Closed Jan. 7, 2022. Enjoy the snow day without distance learning!