2019-20 TEACHER OF THE YEAR AWARD RECIPIENT
EHREN BROWN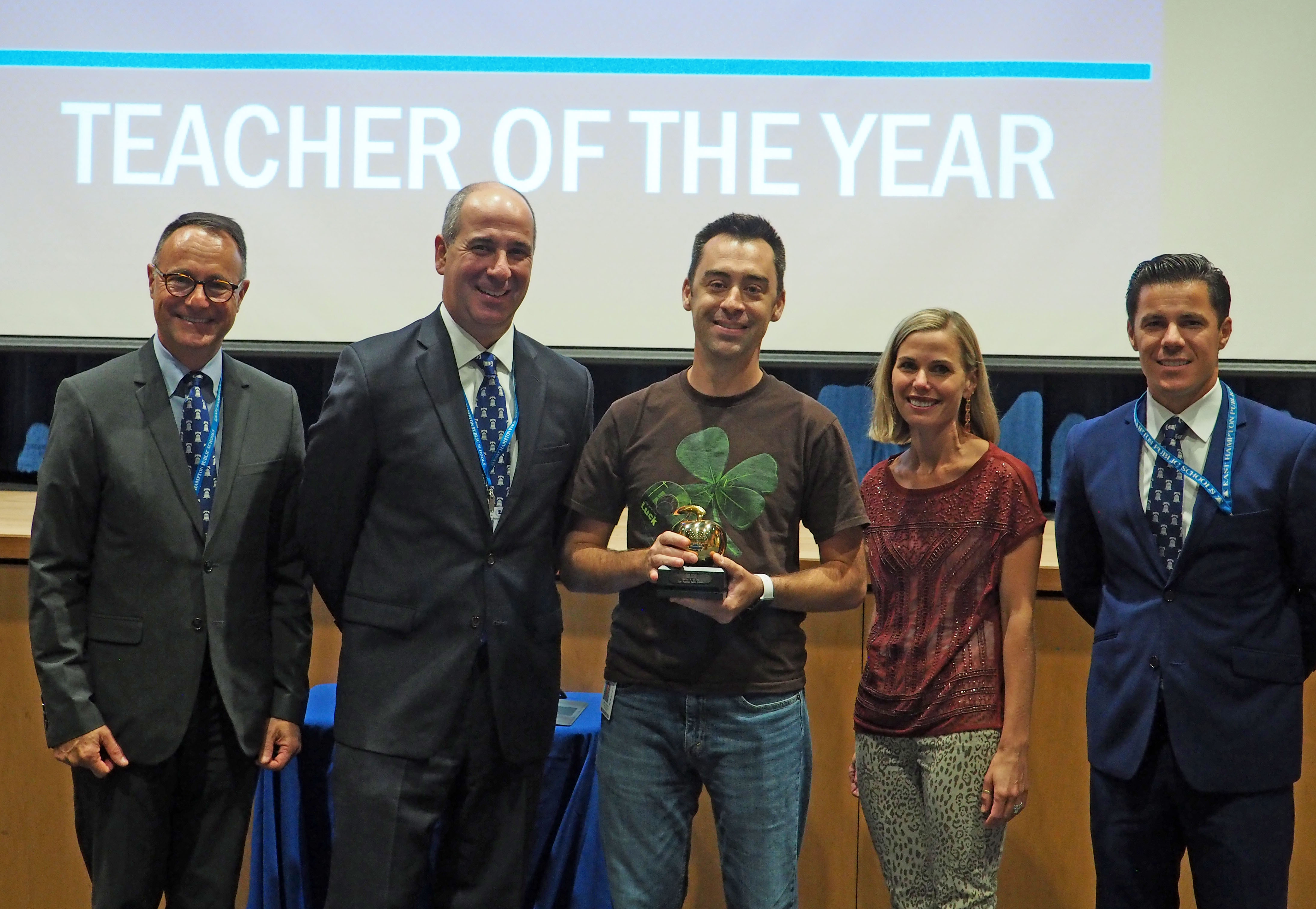 Ehren Brown pictured with Superintendent Paul Smith, High School Principal Eric Verner, Stacey Gibson, and School Principal Chris Sullivan.
Students enthusiastically nominated Ehren Brown (choral teacher at the high school and center school) for teacher of the year recognition, writing, "Mr. Brown inspires students by being his wacky self to get them excited to make music." And excited they are! Adjectives used by students to describe mr. Brown included "nicest, kindest, most intelligent, compassionate, and amazing."
One student wrote, "i feel compelled to nominate Mr. Brown for teacher of the year because he has been a big impact on my love of music in the last four years – so much so that my college essay was about his impact on me."
Another student wrote, "he never judges a student based on their vocal abilities, but rather how much work they are willing to put in to succeed."
Ehren is inspirational to watch in rehearsal. Ehren is a superb musician and conductor, but much more is required when working with high school students and elementary students. He is passionate and energetic – every day, every rehearsal. Calling on an endless supply of enthusiasm he brings out the best in students.
One of his nominators credited Ehren with creating a "grit-developing" environment in the classroom. A master of growth-mindset, Ehren willingly works with all vocal abilities and welcomes students into his classroom and into his heart. In a nomination letter, it was mentioned that "Ehren's effervescent personality makes him equally effective at inspiring and coaching High Schoolers and Center Schoolers. He is magnetic; even reluctant students can't help but engage when Mr. Brown is leading the class."
It is clear that as an educator, Ehren brown brings to his classroom and rehearsals the perfect blend of instructional prowess, a drive to excel, and musical skill. He combines all of those elements daily, exposing students to higher and higher levels of music performance along with an understanding of how they grow as people who are committed to a cause when they work hard and commit to improvement. Ehren models that commitment because he has created an environment that is not founded on competition to be the best performers, but founded on teamwork and mutual support to excel together as a team. He is much more interested in the
Personal growth of every student than promoting the talent of a few. He uses music as his tool to inspire, but at the end of the day, it is the students that he loves more than the performances we as his audience cherish.
Congratulations to Ehren for his superb work with our choral students and for his recognition as the 2019-20 East Hampton teacher of the year!