2019 ROOKIE OF THE YEAR
AWARD RECIPIENT KATHERINE ROBINSON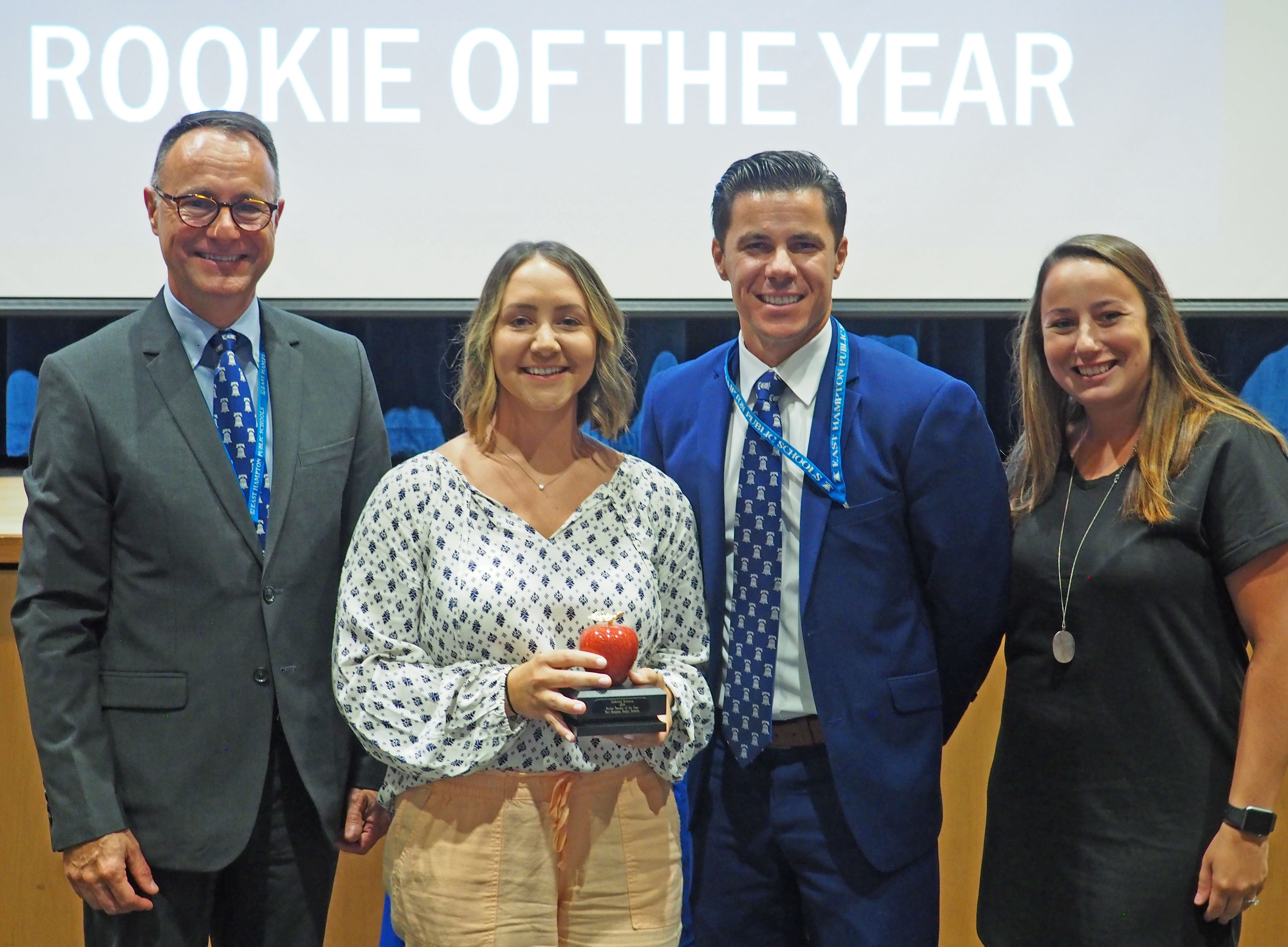 Katherine Robinson, pictured with Superintendent of Schools Paul Smith, Center School Principal Chris Sullivan, and Lisa Forcellina
Katherine Robinson, better known as "Kat" certainly hit the ground running in her first year as Center School PE Teacher. According to one nominee, "Kat went above and beyond in creating and implementing an innovative and engaging curriculum solidified by exemplary classroom management strategies. She volunteered for countless activities throughout the school and always had a smile on her face, spreading joy through the school."
One teacher wrote that her the kids in her classroom absolutely, positively love going to PE class. When the teacher asked students for help writing the nomination, they wrote "Ms. Robinson has a lot of empathy; she takes her time when we are talking to her and doesn't rush us; is understanding, organized, not too strict – but has firm expectations; makes sure everyone plays fairly; always has a something new for us; and she makes everything fun." That teacher summed up her nomination by making sure the selection committee truly understood Kat's positivity, energy, and willingness to do anything!
Another teacher asked for quotes from her students. These students mentioned how "Ms. Robinson is kind and joyful every day; whenever you are down, she puts a smile on your face; she always encourages you to push yourself to a farther level so that you go above and beyond; and she never gives up on something – she has a positive mindset." Great comments from a class of students in Grade 4!
Kat is a Bellringer herself and in her interview for the position said that teaching at the Center School was her dream job and how she always thought of it as a special place since attending herself. Now she makes it a special place for a whole new generation of students!